Tyler Butterfield and Kristyn Robinson won the 2012 Tokio Millennium Re Triathlon this morning [June 10].
Butterfield — who recently qualified for the 2012 Olympics — was a surprise entrant after making a late decision to come back and compete, and w
Speaking after the race, Butterfield said, "This was a last minute decision but Tokio has helped me out so much, I just wanted to thank them for supporting me, they don't always get to see me compete so I decided I could do this."
"I wanted to be the first out of the water, I am a professional athlete so I wanted to make sure that I stamped my authority on the race right from the start."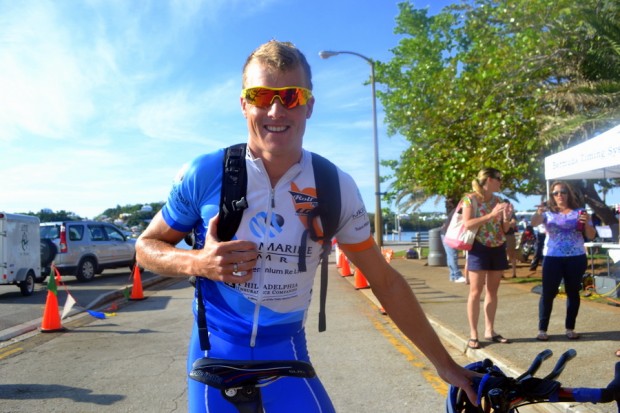 "Graham Smith, pushed me on the swim and Dominic Mayho rode really well on the bike, I was really impressed with the way he handles the bike, his technique is much better than mine."
Butterfield crossed the line in a time of 56:15, Jonathan Herring finished second clocking 1:01:23 and Neil De Ste Croix finished third with a time of 1:03:23.
Kristyn Robinson successfully defended her women's title finishing in a time of 1:07:38. "I was pleased with my performance, I know I need to work on my swim, but I have confidence in my bike and run that I was always in with a shot to win it," said Robinson.
Laurie Orchard was the second female finisher and the 19th overall with a time of 1:11:03 and Emma O'Connell finished third with a time of 1:13:24 that saw her finish 27th overall.
The Berkeley Institute won the School Challenge when they recorded a time of 35:01, Saltus Red finished second with a time of 35:43 and Saltus White finished third with a time of 36:32.
Zion Dowling and Alyssa Rowse where crowned the Junior Triathlon winners, Dowling recorded a time of 33:52, with Timothy Vieira finishing second in 34:36. Rowse finished 6th overall with a time of 37:18.
Deshi Smith won the Tri A Tri event after crossing the line in a time of 38:10, while Kamryn Minors who was the first Female finished second with a time of 39:57.
Read More About