Cash prizes for schools will be on offer as TMR, the organisers of one of the Island's leading triathlon events, try to encourage Bermuda's youth to sign up and take part.
The 12th TMR 2018 Sprint Triathlon will take place on Sunday, September 30, starting at Albuoy's Point, and TMR said they would like to see a big increase in the numbers of young people competing, saying it is a "great chance to practice for the WTS Kids Duathlon being held in April 2019."
Kathleen Faries, TMR's Head of the Bermuda Branch, said that in an age of smart phones, it was important to encourage young people to engage in other activities, especially sport.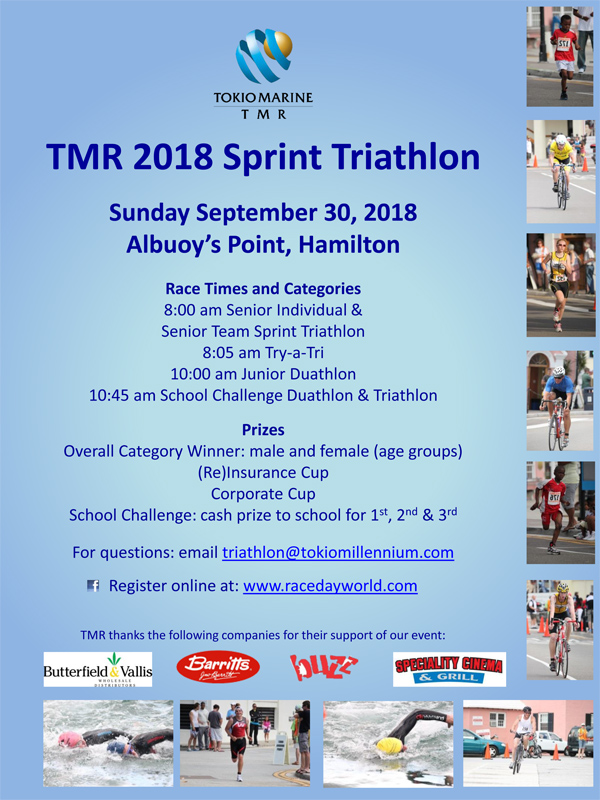 "As well as the full triathlon, we have a Try-a-Tri which anyone can take part in and complete. We have this category to give people a taste for triathlons, and to let them see it is not that hard, in the hope of encouraging them to do more," she said.
"TMR believes very strongly in supporting Bermuda's athletes as we want them to be successful and inspire the next generation of competitive athletes. TMR believes in the benefits of an active, healthy, lifestyle."
The event this year includes a School Challenge with cash prizes for the first, second and third placed school teams.
"We are hoping that this will continue to encourage schools to organize teams to take part as in prior years," said Martin Bolton, TMR's Race Director and organizer of this years' event.
"This is an important event and one that is now very established on the athletic calendar. I am sure there will be a great turn out."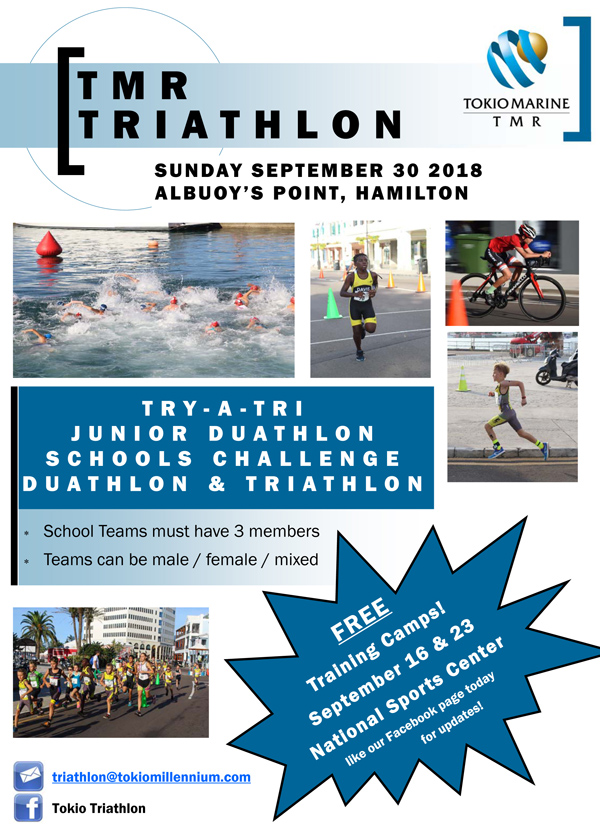 The categories and race times are:
8:00 a.m. Senior Individual and Senior Team Sprint Triathlon
8:05 a.m. Try-a-Tri
10:00 a.m. Junior Duathlon
10:45a.m. School Challenge Duathlon and Triathlon
Mr Bolton added: "Of particular note for TMR's 2018 Triathlon: the timing of various categories has been rearranged due to feedback received over the past couple of years. Summarizing, the adults and Try-a-Tri will race early followed by Juniors and Schools – TMR encourages everyone to stay and cheer on Bermuda's youth – it's always so exciting to see the effort these young people give to the sport."
For more information email triathlon@tokiomillenniumre.com and to register, go to www.racedayworld.com
The TMR triathlon route maps follow below [PDF here]:

Read More About