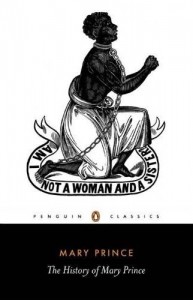 The Naming and Recognition Committee in conjunction with the Department of Community and Cultural Affairs announced today that Mary Prince — who was born into slavery — will be recognised as the 2012 National Hero.
Mary Prince was a Bermudian woman born into slavery at Brackish Pond, now known as Devonshire Marsh in Devonshire Parish, Bermuda. Her parents were both slaves, her father – whose only given name was Prince – was a sawyer owned by David Trimingham; her mother – was a house servant owned by Charles Myners.
When Myners died in 1788, Mary Prince and her mother were sold as household servants to Captain Darrell, who gave Mary to his granddaughter, Betsey Williams. When she was 12, Mary Prince was sold for 38 pounds sterling to Captain John Ingham of Spanish Point. She never took easily to the indignities of her enslavement and was often flogged.
As punishment, she was sold to another Bermudian, probably Robert Darrell, who sent her in 1806 to Grand Turk to work in the salt industry. Mary returned to Bermuda in 1810 and was sold to John Adams Wood in 1818 for $300 and sent to Antigua to be a domestic slave. She joined the Moravian Church, and in December 1826 married Daniel James, a former slave who had bought his freedom and worked as a carpenter and cooper. For this impudence, she was severely beaten by her master.
In 1828, Wood and his family took Mary with then to London as a servant. After years of abuse, Mary ran away from her master and took shelter with the Moravian church in Hatton Garden. Within a few weeks, she had employment with Thomas Pringle, an abolitionist writer and Secretary to the Anti-Slavery Society – she 'broke the silence' by telling her story to the anti-slavery society.
In 1829, Wood refused to either manumit her or allow her to be bought out of his control. His refusal meant that she could not return to Antigua, without returning to slave status. Her autobiography, 'The History of Mary Prince' published in 1831, was the first account of the life of a black woman to be published in the United Kingdom. Mary Prince spoke of slavery with the authority of personal experience.
Mary Prince is known to have remained in England until at least 1833 – the year that the British Parliament passed the Slavery Abolition Act.
A Government spokesperson said, "The public will recall that last year three persons were honoured. However this year although nominations were not solicited, the Naming and Recognition Committee received more than a dozen unsolicited letters, more specifically from teenaged students from both the public and private schools recommending that Mary Prince be designated. The letters were sent to the Committee via the Bermuda African Diaspora Heritage Trail (ADHT) Foundation.
"Historical accounts tell us that Mary Prince is considered to be Bermuda's most famous slave. She was the first black woman to publish a book about the brutality of slavery. Mary Prince's book 'The History of Mary Prince' published in 1831, is significant because it was instrumental in helping to dismantle slavery in Bermuda and the Caribbean.
"According to biographical records, it was the first account of the life of a black woman to be published in the UK. A first-hand description of the brutalities of enslavement, released at a time when slavery was still legal in the British Caribbean colonies and Bermuda, it had a galvanising effect on the anti-slavery movement. Mary Prince spoke of slavery with the authority of personal experience.
American Poet Maya Angelou introduces readings from Mary Prince's 1831 autobiography:
Minister of Economy, Trade and Industry Patrice Minors said, "Mary Prince is a Bermudian heroine who deserves to receive this singular honour. As a personal account, Mary Prince's story contributed to the debate about slavery in a manner different from reasoned analysis or statistical arguments. It was direct and authentic. And we are pleased that she will join the other National Hero inductees this month."
In 2008, Bermuda's first selected National Hero was Dame Lois Browne-Evans. Last year, honourees included Dr. Edgar.Fitzgerald Gordon, Dr. Pauulu Kamarakafego [Dr. Roosevelt Browne] and Sir Henry 'Jack' Tucker.
National Heroes Day Official Public Holiday will be observed on Monday June 18, 2012. This year an induction ceremony will take place on Saturday June 16, at 6.00 p.m. at Barr's Bay Park and will feature commemorative musical, dance and spoken word performances.
Read More About