It's been said every country needs heroes — those who inspire us, lead the way and provide models of courage and determination.
And the island officially recognized three more heroes yesterday [June 19], who will now be honoured along with Dame Lois Browne Evans when locals commemorate those who helped to shape modern Bermuda.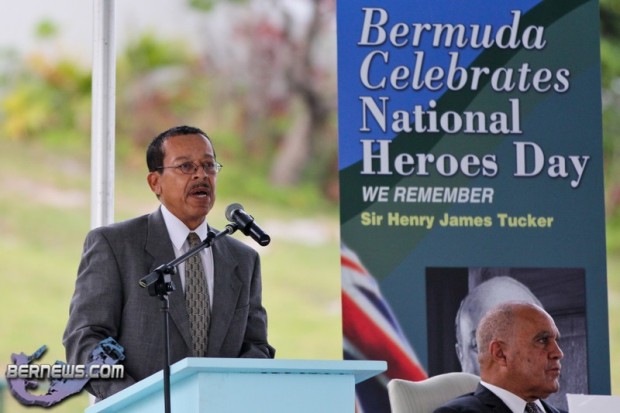 Approximately 200 people attended the Official National Heroes' Day Induction Ceremony in the Show Ring of the Botanical Gardens yesterday. The ceremony honoured the achievements of trade union pioneer Dr. E.F. Gordon;  political, social and economic trailblazer Sir Henry [Jack] Tucker and civil rights champion Dr. Pauulu Kamarakafego [Dr. Roosevelt Brown].
Video of the performance of 'Proud to Be Bermudian':
"These men who are considered contributing architects of the modern day Bermuda, will receive posthumous recognition for their contributions" Minister Blakeney said when the three were named in April.
"They are each reflective of the Island's cultural heritage and diversity – which is one criteria for a National Hero Award. Another criterion is that nominees 'increase awareness of collective history and enhance a sense of national unity and social cohesion amongst Bermudians.'
"Undoubtedly all three icons also demonstrated exceptional leadership qualities – an attribute that National Hero Award nominees are required and expected to possess," Minister Blakeney added.
'Hero' a poem by Veejay Steede:
Dr. Gordon, widely regarded as the "Father of the labour movement" in Bermuda, championed the cause of Bermudian workers and fought tirelessly for equal rights for all Bermudians, thereby laying the groundwork for much of the political and social change that came about after his death.
His courage, feistiness and dogged determination were often on display when Dr. Gordon confronted subtle, yet formidable segregation in Bermuda. As a MCP [Member of the Colonial Parliament], Dr. Gordon was relentless in challenging social and political inequities. He demanded to know why black Bermudians could not work as nurses at King Edward VII Memorial Hospital or sell stamps at the Post Office. With only seven per cent of the population eligible to vote, he also pressed for the abolition of the property vote.
Former Premier Alex Scott reads Dr E.F. Gordon's bio:
Sir Henry Tucker is considered one of the Island's most important leaders of the 20th Century. He became Bermuda's first Government Leader on May 22, 1968 in the first election held under a new Constitution and a two-party system.
Sir Henry, a founder of the United Bermuda Party, was a dominant figure in business and politics for three decades before that. He piloted the Bill in Parliament that gave women the right to vote. As the number two, then the number one man at the Bank of Bermuda, he oversaw its transformation from a local bank to international financial institution. He also helped lay the foundation for international business in Bermuda.
Sir Henry Tucker formed the United Bermuda Party (UBP) in 1964 and underwent a political evolution over time as his pragmatism as a Government Leader saw him transform from a representative of the status quo to an advocate of social justice and cooperation among the races, observing: "One of the ways in which we can be in contact–people of our two races-is to integrate primary schools. Children at the age of five, when they go into the government school system, are without prejudice."
UBP MP Kim Swan reads Sir Henry Tucker's bio:
Dr. Pauulu Kamarakafego [Dr. Roosevelt Browne] was a civil rights leader, political activist, Parliamentarian, ecological engineer and United Nations NGO who used his ideas to make changes at home and abroad.
He worked tirelessly and courageously to empower peoples around the globe. He was regarded as a modern day 'Johnny Apples-Seed' who planted ideas everywhere he went and changed social environments in his path.
In 1960 the Committee for Universal Adult Suffrage (UAS) was formed and Dr. Kamarakafego was quick to pick up the political ball and run with it. He organized meetings all over Bermuda and stayed with the fight until 1961 when Universal (not equal) Suffrage was won, and the first political party, the Progressive Labour Party (PLP) was formed and the property vote abolished shortly afterwards.
Thaao Dill reads Dr Pauulu Karamakafego's bio:
The two-hour ceremony featured entertainment including dance performance by local group TROIKA, music from The Menuhin Foundation, poems by Chrisante Bean and Vejay Steede, and a performance of the song 'Proud to be a Bermudian'. The family members of each of the three National Heroes were called to the stage, and presented with engraved glass mementos.
Photos by Only the Best, click to enlarge:
Read More About