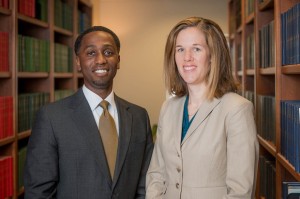 MJM Limited has appointed Brian K. Holdipp as a Senior Associate in its corporate practice group and Jennifer A. Haworth as an Associate in its litigation practice group.
Mr. Holdipp is a corporate lawyer of over 12 years standing at the Bermuda Bar. Most of his post-qualification experience was gained with Conyers Dill & Pearman, including two years' secondment in Singapore servicing that firm's clients in core Asian markets.
His diverse practice encompasses many areas of general corporate and commercial law, with specialist expertise in securities, joint ventures, corporate restructurings and cross-border financings. He also advises on partnerships.
Immediately prior to joining MJM Limited, Mr. Holdipp acted as legal consultant to the Bermuda Monetary Authority advising on proposals to regulate the Island's corporate service provider industry and proposals to enhance the Authority's enforcement powers across the insurance, investment business, trusts and banking sectors.
Mr. Holdipp received a Bachelor of Arts with honours from Andrews University, earned his Bachelor of Laws with honours at the University of Kent and completed the Legal Practice Course at The College of Law, having been both a Bermuda Scholar and an Appleby, Spurling & Kempe Scholar during that time.
Mrs. Haworth has 6 years' post-qualification experience and a wide practice in the fields of civil and commercial litigation. Her advocacy experience includes conducting Magistrates' Court trials, regular Supreme Court Chambers and petition hearings, and appearances before the Employment Tribunal. Prior to joining MJM Limited, Mrs. Haworth was an Associate with Conyers Dill & Pearman in their litigation department from 2006 – 2012.
Mrs. Haworth earned a Bachelor of Arts with honours in political science from Mount Allison University and a Bachelor of Laws with honours from the University of Kent. She completed the Bar Vocational Course at the Inns of Court School of Law and was admitted to the Bermuda Bar in 2006. She received the Conyers Dill & Pearman Legal Scholarship in 2002.
Mrs. Haworth is an Associate Member of the Chartered Institute of Arbitrators and was appointed as a Notary Public in 2011. She provides legal assistance to the community at The Centre on Angle Street and Women's Resource Centre. She is currently a Board Member for Bermuda Cancer & Health Centre, where she chairs the Governance & Compliance Committee.
Mr. Dunch, who heads the firm's litigation practice group, said: "I welcome Brian and Jennifer to MJM Limited. Their wide-ranging experience in their respective practice areas will be an asset to us and to our clients. MJM Limited is delighted to continue to attract such clearly talented individuals as employees."
Read More About