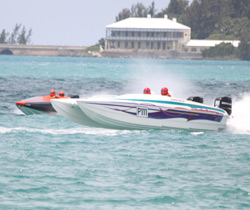 The Bermuda Power Boat Association held their National Championship racing off the Spanish Point Boat Club on Sunday [July 8].
Jody and Tony Carreiro won both A Class races, while Mark Selley and Jordan Fletcher drove to victory in both B Class races.
Tonka Simpson and his crew Seth Chetty raced to victory twice in the FB Class, while Ryan and Steven Davidge won both Stock D Class races.
Graham Sutherland and Mackie Wilson won both D Class races, while Chad Sutherland and his crew Ryan Pacheco finished second twice, Bobby Decosta and Chris Wells finished third in the first race but did not start the second race, while Steven Eversley and Jason Lopes finished fourth in the first race and did not start the second race.
Aaron Sims and Steven Bridges won the first race in the S Class, while Andy and Anthony Stoneham finished second and Cameron Harris and Levon Seymour finished third. In the second race, the Stoneham's took the checkered flag, followed by Sims and Bridges, while Harris and Seymour finished third.
Read More About