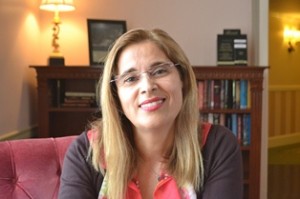 Dr Maria Da Graca Castanho — the Regional Director of the Communities for the Azores — recently visited Bermuda and spoke of the special connection between the two islands.
Dr Castanho's position means that she has special responsibility for Azorean people who either live or work in other countries; USA, Canada, Brazil, Portuguese speaking countries in Africa, and, of course, Bermuda.
Dr Castanho says that there is a special connection between Bermuda and the Azores that traces back to the 17th century; and that Bermudian persons who can trace their ancestry to the Azores, or Azoreans who are here on work permits, make up the largest of Bermuda's communities of minorities.
She said that through centuries of living together for many years under the same weight of discrimination and prejudice, a strong bond and genetic connection had developed. Many Bermudian families, both black and white, carry genes from the Azores.Dr Castanho said that she'd met with the Leader of the Opposition, Craig Cannonier, who told her that he had Azorean genes in his family background.
Asked if there were any immediate or pressing concerns between the Government of the Azores and the Government of Bermuda, she said that there were no urgent matters.
However she said that general discussions with the Bermuda Government and the local Azorean community would likely touch on several matters that are involved in the special relationship that Bermuda has with the Azores, and that come out of the 1991 Memorandum of Understanding between Bermuda and the Azores.
These matters are: That Portuguese is still not taught as a mainstream second language in Bermuda's schools; that Azorean men still cannot bring their wives to Bermuda when they first arrive on a work permit; that children born in Bermuda to Azoreans who have been long-term residents cannot acquire Bermuda Status, and that the Bermuda Government is not renewing work permits for Azoreans who are employed here.
Dr Castanho, speaking in a Portuguese language video, said that in that short video, she had told Portuguese speakers that she was in Bermuda to "support and help them and that she urged them to be proud of who and what they are."
Dr Castanho said that she had already met with part of Bermuda's Azorean community on Thursday night at the Vasco da Gama Club on Reid Street, and took part on the Portuguese festival of Espirito Santo in St George's on Sunday, before leaving the island yesterday.
Read More About