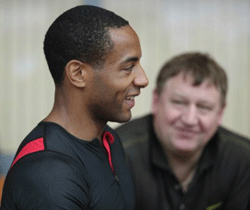 Amid all the pomp and circumstance of the 2012 Olympic Opening Ceremony, Bermuda made our own small impact courtesy of long jumper Tyrone Smith's dancing during the Parade of Nations.
During the Olympic Opening Ceremony Twitter exploded with hundreds of tweets about his dancing, with the 27-year-old being noticed by many Olympic watchers across the globe.
Mr Smith seems to have gained quite a few female fans online, and a few in the Twitterverse noted they would be cheering for Bermuda specifically due to our 'dancing man'.
Mr Smith is considered by many to be one to watch at these Games. In the 2008 Olympics, he placed 15th with a leap of 7.91m, however he has improved since then with a new top leap of 8.22m set in 2010. If he had attained that 8.22m two years earlier, he would have placed 3rd, as a Cuban won Olympic bronze with leap of 8.20m. He is scheduled to compete on Friday Aug 3.
Bermuda's Olympic team also includes long jumper Arantxa King, triathletes Tyler Butterfield and Flora Duffy, sailors Jesse and Zander Kirkland, equestrian Jillian Terceria, and swimmer Roy Allan Burch. The first athletes to compete for Bermuda will be the Kirkland brothers tomorrow [July 30].
Tyrone Smith wasn't the only Olympic athlete earning attention for something other than his athletic prowess, as swimmer Roy Allan Burch was also the attention of quite a few tweets himself, as well as an article on a top U.S. gossip website entitled "For The Ladies: Bermuda's Roy Allan Burch Makes Swimming Look Good."
Some of the tweets have been collected below, they may take a while to load:
Read More About
Category: All, Entertainment, News