[Updated] Starting just after noon today [Aug 15] a line formed outside White's in Warwick, with the doors set to open for the liquidation sale at 1pm. Yesterday KPMG confirmed there were no offers to acquire the store, hence there would be a liquidation sale with all stock available at "considerable discounts" both today and tomorrow.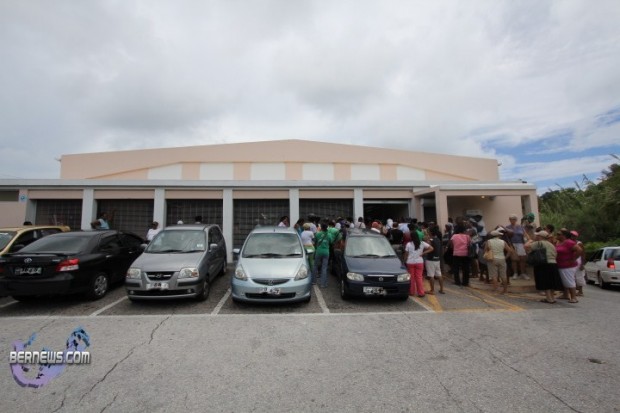 Our cameras were not allowed inside the store, which has fairly bare looking shelves with signs up saying prices are 25% off. There are two/three cash registers in operation at one time, and each one has people lined up, with at least one line appearing to be at least thirty people deep.
The cash registers are manned by a cashier, with what appears to be member of management or KPMG standing by. Some would-be shoppers told Bernews they left without purchasing anything, as they did not feel like waiting in a long line to get 25% off the limited selection.
On August 10th, a Court order was signed to wind up White & Sons Ltd. The petition was originally filed in the Supreme Court by IBC, following after writs already taken out against the company by Pitt & Company and BGA.
White's, which had been business since 1924, once employed 85 people however the staff at the Warwick location have been laid off, and food wholesaler Butterfield & Vallis have applied to wind-up the other two White's locations in Warwick and Southside.
Update 1.39pm: There are now two lines at the cash registers, both with dozens of people running all the way to the back of the store by the butcher area. The household department appears to have someone stationed there to help, but not take payments.
Additional people have told us they changed their mind and left without buying something, with many complaining about the low number of cashiers. One lady told us she was out on her lunch hour, and had to leave as there was no way she would get through the line in time to get back to work.
However hundreds of people have been seen lining up and purchasing goods, and some people told us despite the long lines they are thinking about coming back to the sale tomorrow in hopes things may be marked down even further.
Some freezers, containing food, had tape going across the doors saying "OFF." The parking lot is becoming rather confused, and there was at least one small argument after someone was blocked in. The field next to White's is fairly full with cars.
Read More About