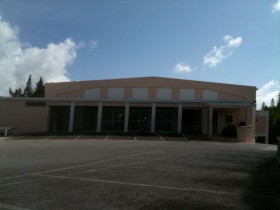 The White's building on Middle Road in Warwick has been put up for sale, with an asking price of $7,640,000.
The property sits on 0.97 acres and comprises of over 32,000 square feet, with 2 freight elevators, 4 bathrooms and parking capacity for 50 cars.
The real estate listing on Rego Sotheby's website says: "This Commercial Property being offered for sale consists of 2 buildings on 2 separate lots. The 1st is a 4 storey building favorably located across the junction of Middle Road and Harbour Road, Warwick, sitting on 0.97 acres with a bus stop bordering the property.
"The building was built in 1967 operating, until recently, as a supermarket and pharmacy and comprises of over 32,000 square feet; a lower floor with 11,226 square feet; ground floor 14,273 square feet; 1st floor 5,282 square feet and 2nd floor 1,655 square feet. There are 2 freight elevators, 2 internal staircases, 2 loading docks, 4 bathrooms and has parking capacity for 50 cars.
"Not only 2 large water tanks but there is also a well on the property and if needed has capacity to access Bermuda Waterworks. The 2nd building, included in the sale, is a Grade 1 listed building across the street originally known as "Bishops Spencer School" which sits on 0.216 acres. This historical building comprises of approximately 920 square feet."
All three White's stores were ordered to be wound up by the Supreme Court earlier this year, with 85 people losing their jobs when the 88-year-old company closed its doors.
Read More About