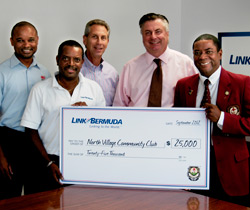 LinkBermuda will be the lead sponsor of the North Village Community Club Football Programme for the 2012/13 season. The $25,000 sponsorship demonstrates LinkBermuda's ongoing commitment to support youth sport and development on the island.
In addition to its financial contribution to North Village Community Club, as part of its sponsorship, LinkBermuda will be providing internship and mentoring opportunities to the Club's members and student athletes.
"We are extremely pleased to be involved once again with the excellent work of North Village Community Club," says Miller Williams, COO and CFO of LinkBermuda. "At LinkBermuda, we are strong believers in building a sustainable community for Bermuda and its citizens, and North Village Community Club has a long history of supporting the youth of Bermuda through the development of sports and other community outreach programs."
North Village Community Club was originally established in 1957 as a football club for young men. Over time, it has grown into one of the largest sports club in Bermuda, offering football, cricket, netball and golf programs, as well as summer camps. NVCC also shares its facilities with the neighboring schools in the area. In addition, the Club provides financial assistance to members of their community club who qualify, and awards scholarships to students studying both, locally and abroad.
North Village Community Club President Shervin Dill says that the Club is extremely thankful to their title sponsors Link Bermuda and will be celebrating their 15 years of partnership, anniversary this year. He said that it is through Corporate Sponsorships such as Link Bermuda that enable NVCC to continue to set the standards high for the investments we make in developing our youth into productive citizens of Bermuda.
Read More About