Gombeys from troupes across the island converged on the W. E. R. Joell Tennis Stadium this evening [Sept 22], as the Department of Community and Cultural Affairs hosted the Gombey Festival. The event is held annually, with an aim to provide exposure to the folk art and traditions of the Bermudian Gombeys.
The tennis courts were cleared of nets and the stadium had spectators gathering to get a view of the performances. Each group was introduced by Gary Phillips, and the PHC Majorettes started the evening off. Vendors offering food, mini-donuts, refreshments, toys and Gombey souvenirs were on hand to satisfy the crowds.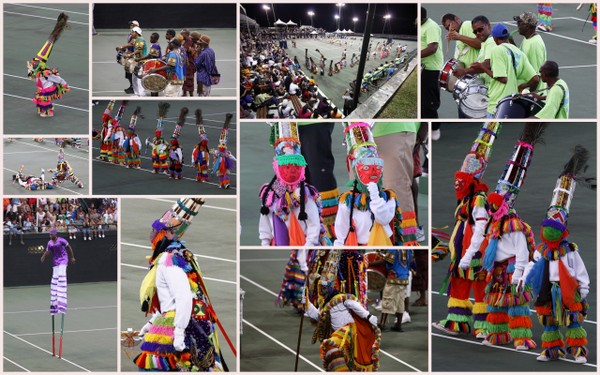 Groups participating this year included the H & H Gombeys, Places New Generation Gombeys, Warner Gombeys, Warwick Gombeys, Roots Gombeys, Gombey Warriors, as well as stilt-walkers or "Mock-a-Jumbie" dancers from St. Kitts.
The Department of Community and Cultural Affairs said each year they choose a tradition bearer of the Gombey Art form to be honoured. Mrs. Janice Warner-Tucker and her brother Mr. Llewellyn "Termite" Warner were selected as rhe 2012 Gombey Festival honorees.
"These siblings are both masters of their particular art form and they continue to carry out the traditions of costume making and dance which began over seventy years ago under the guidance of their parents – Mrs. Iona Warner and Mr. John James Warner," a statement from  Cultural Affairs said.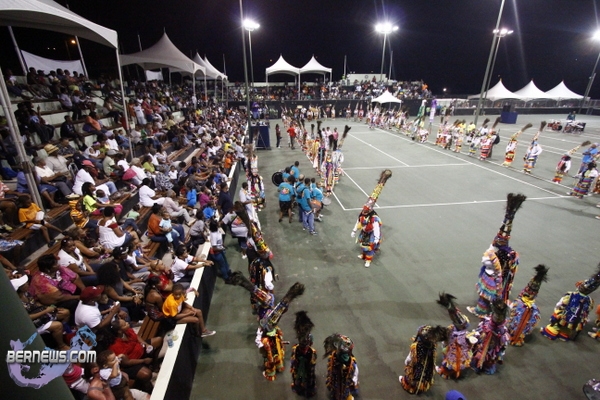 "Historically, the Gombeys were not viewed as a respectable art form by the island's ruling class," a spokesperson for the Department said last year when discussing the 2008 Gombey documentary Behind The Mask.
"Slaves were allowed to dance only once a year and did so in masks in order to protest, without fear of retribution, the injustices done them by their slave masters. Incorporating elements of African, Native American, Caribbean and British cultures the Gombeys have evolved into the colourful, uniquely Bermudian art form beloved by locals and tourists alike."
Click to enlarge photos:
Read More About