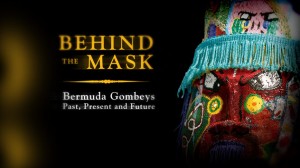 Christmas is fast approaching — which means the staccato rhythms of Bermuda's Gombeys can't be far behind.
One of Bermuda's oldest but most vibrant folk traditions, a special edition version of the landmark 2008 Gombey documentary "Behind The Mask" with added features and subtitles is now available just in time for the holiday season.
"Historically, the Gombeys were not viewed as a respectable art form by the island's ruling class," said a spokesman for the Department of Community & Cultural Affairs, which produced the 90-minute film. "Slaves were allowed to dance only once a year and did so in masks in order to protest, without fear of retribution, the injustices done them by their slave masters. Incorporating elements of African, Native American, Caribbean and British cultures the Gombeys have evolved into the colourful, uniquely Bermudian art form beloved by locals and tourists alike.
"From archival texts and insights of our foremost historians to the memories of the oldest living Gombey Masters, from the hearts and minds of today's Captains to the youngest Gombeys carrying the tradition into the future, 'Behind the Mask' explores the past, the present and the future of this proud and resilient heritage, and is a celebration of all these exceptional Bermudian tradition-bearers."
Directed by Bermudian filmmaker Adrian Kawaley-Lathan and co-produced with Kalilah Robinson, the DVD is available at the Department and at various stores around the island.
Trailer For "Behind The Mask"
Read More About
Category: All, Entertainment, Films/Movies, History