Well known Bermudian contestants volunteered to raise funds for Big Brothers Big Sisters of Bermuda during the "How much would you pay to see me?" – at Harbour Nights on Wednesday [Sept 5].
The event saw the volunteers perform 'dares' to raise money for charity, including eating specimens of bugs seasoned in different ways, having pies thrown in their face, skipping in a tutu and more.
Minister Zane DeSilva and Vejay Steede had pies thrown in their face: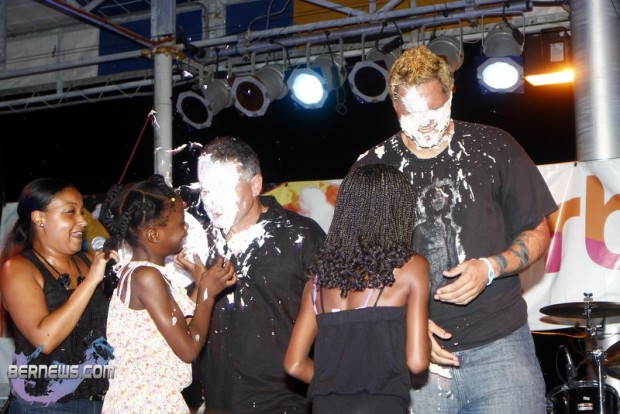 Carla Zuill ate salt & vinegar covered crickets, seasoned worms and for dessert an ant filled lollipop. Michael Wellman of Alpha phi Alpha Fraternity ate a huge dog biscuit and a shot of super hot, hot sauce.
E. Michael Jones sampled a bit of everything. Mr Jones ate pig's ear, alligator tail, chicken feet, worms, crickets, and for dessert he had a toffee covered scorpion. In true Bermudian fashion, Mr Jones ate most his 'treats' mixed with mayonnaise.
Some of the others that participated included Corey Butterfield, Minister Patrice Minors, Rachel Sawden, Minister Zane DeSilva, Vejay Steede, Dr Neil Burnie. OBA candidate Jeff Sousa took on Teresa Perozzi in a boxing match, which you can watch online by clicking here.
Zane DeSilva & Vejay Steede get pies thrown in their face:
Rachel Sawden performs Fresh Prince of Bel-Air:
Dr Neil Burnie Performs:
Read More About