Despite a valiant effort from Jeff Sousa, he was unable to defeat Teresa Perozzi at the recent mini boxing match held during the fundraiser at Harbour Nights earlier this week.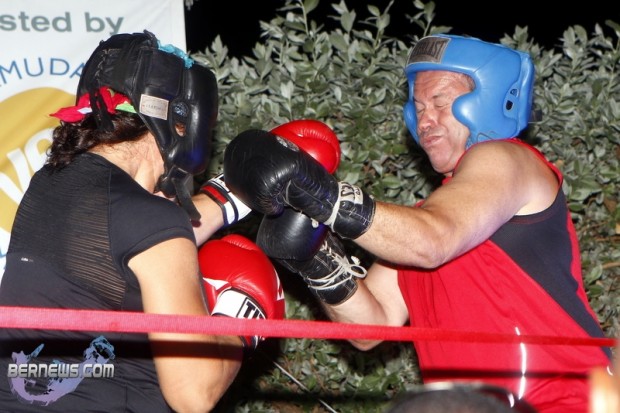 During the mini boxing match, OBA candidate Jeff Sousa took on Bermuda's own WIBC and NABC middleweight boxing world champion Teresa Perozzi. A large crowd gathered to watch the landscape firm owner and boxing world champion go a couple of rounds on Front Street.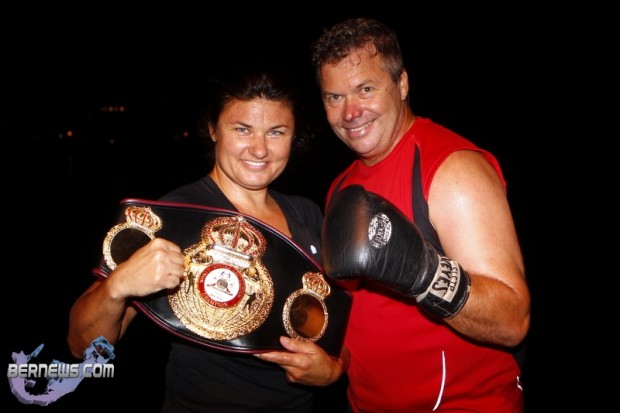 At the end of the bout, champion Teresa Perozzi retained her title and belt while Mr Sousa was in need of some care after suffering damaging blows which drew a touch of blood.
The MC for the night did note that the real winner of the night was the Big Brothers Big Sisters of Bermuda charity, which received additional donations due to the event.
After the fight Mr Sousa wrote on his Facebook page, "Well I didn't get knocked out. But I think I have a broken nose and a couple busted ribs. Believe me it is easier than it looks.
"Hats off to Teresa Perozzi she is a real sport. And congratulations to PowerGirl Trina and her team from Big Brothers Big Sisters of Bermuda. They really did an awesome job. Thank you everyone for your support and please continue to get your pledges in to www.bdatix.bm."
Click to enlarge photos:
The boxing match was part of the Big Brothers Big Sisters of Bermuda "How much would you pay to see me?" fundraiser at Harbour Nights on Wednesday [Sept 5]. The event saw well known Bermudians perform 'dares' to raise money for charity live on stage.
Some of the other contestants included Minister Patrice Minors, Minister Zane Desilva, Rachel Sawden, Carla Zuill, David Skinner, Michael Wellman, Dr. Neil Burnie, Corey Butterfield and more.
Read More About