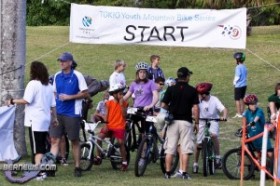 Building upon six years of success, the Tokio Youth Mountain Bike Series will return to the Arboretum on November 17 for the first of seven races.
The free series sponsored by Tokio Millennium Re and Bicycle Works, and sanctioned by the Bermuda Bicycle Association, has the aim to introduce primary school aged children to cycling as a way to help promote physical fitness and healthy lifestyles. The emphasis of the event is on fun rather than being a competitive race, as a way to foster a love for cycling.
The story of the series' success can be seen in the children who participated as youngsters and continue to participate in the sport as teenagers. Many are now representing Bermuda in international competitions.
Daniel Oatley, 16, the reigning Caribbean Time Trial Cycling Champion for boys 15 to 16, said he became "passionate" about cycling from the seeds the Tokio Youth Mountain Bike Series planted. "The Tokio Series meant a lot to me. It gave me a confidence at cycling. I would probably still be playing football and not being very good at it if it wasn't for the Tokio Series."
Ed Jordan, Chief Underwriting Officer at Tokio Millennium states: "Our goal in creating the event was to give even the youngest child a chance to gain confidence in riding a bicycle and to practice basic principles of strength, coordination and motor development."
Children are free to use any kind of bicycle (even those with training wheels or a toddler bike), but they must bring their own helmet and have their parent/guardian sign a waiver in order to participate.
This is a fun family event that moms, dads, siblings and family friends can enjoy as they cheer on children on the Arboretum and Ferry Reach courses.
Each week there are fabulous draw prizes, and every child who participates will get a goodie bag upon registering for the first time. At the end of the seven-race series one child's name will be drawn as the grand prize winner to take home a bike from Bicycle Works.
The series starts on November 17 and will conclude on January 24. Planet Coffee will also be present mixing up free lattes or other java beverages for the parents. For more information on the event or to download the waiver,visit tokiomillennium.com or visit them on Facebook.
Below is the schedule for this year's Tokio Youth Mountain Bike Series:
Saturday, November 17th, 2012 – The Arboretum at 4:00 p.m.
Saturday, November 24th, 2012 – The Arboretum at 4:00 p.m.
Sunday, December 2nd, 2012 – The Arboretum at 2:00 p.m.
Saturday, January 5th, 2013 – The Arboretum at 4:00 p.m.
Sunday, January 13th, 2013 – Ferry Reach at 2:00 p.m.
Saturday, January 19th, 2013 – The Arboretum at 4:00 p.m.
Saturday, January 26th, 2013 – The Arboretum at 4:00 p.m.
Read More About