[Updated] Earlier this afternoon [Dec 10] a car driver smashed into a wall in the Middle Road, Southampton area. Unofficial reports indicate that no one was injured in the collision, which saw traffic restrictions temporarily in place until the car was moved. The police responded, and were seen to be questioning the driver at the scene.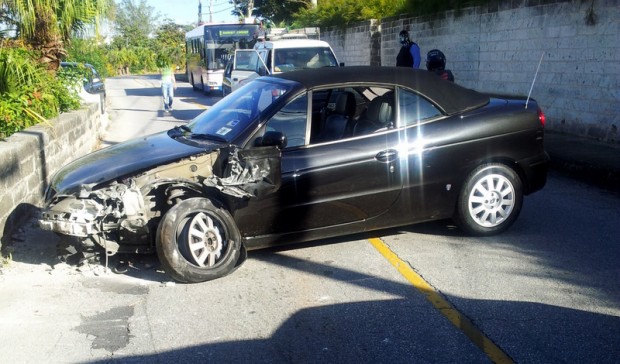 Update 6.24pm: The police confirm the driver, a 36 year old St. George's man, was arrested on suspicion of impaired driving.
A police spokesperson said: "Around 2:15pm on Monday, December 10th police and first responders attended a reported single vehicle collision on Middle Road in Southampton near the junction with Avocado Lane. It appears that a car was being driven along Middle Road when it collided with a wall.
"The car received extensive front end damage as a result; however there were no reported injuries. Traffic was temporarily diverted away from the scene and the driver, a 36 year old St. George's man, was subsequently arrested on suspicion of impaired driving. Inquiries into this collision are ongoing."
- Photo by Kenneth Byron
Read More About
Category: Accidents and fires, All, Crime