[Updated with video] A man was arrested on suspicion of impaired driving after crashing a car through a wall on Harbour Road in Paget, ending up overboard in the harbour.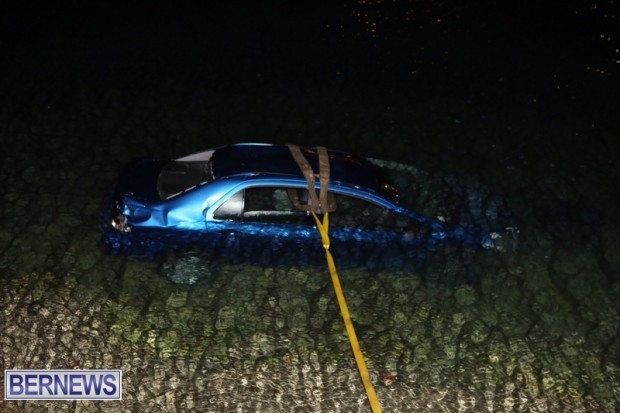 A police spokesperson said, "Around 1:48am on Saturday 24-October, Police responded to a report of a single vehicle collision on Harbour Road in Paget near the junction of Lovers Lane.
"It was reported that the male driver of a motorcar travelling west collided with a retaining wall on the northern side of the carriageway next to Lower Ferry before going overboard into the harbour.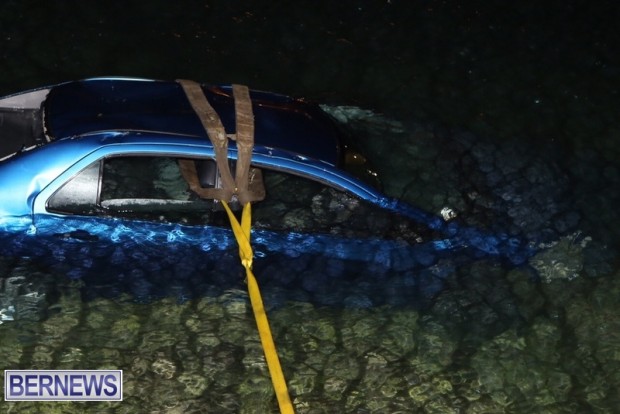 "The male driver who was the only occupant inside the vehicle was apparently not injured, however he was arrested on suspicion of impaired driving.
"Police wish to advise the motoring public that between 8:30am – 9:30am on Sunday 25-October, there will be some traffic disruption in the area of Highwood Lane/Harbour Road, Paget, allowing work crews to safely remove the vehicle from the harbour.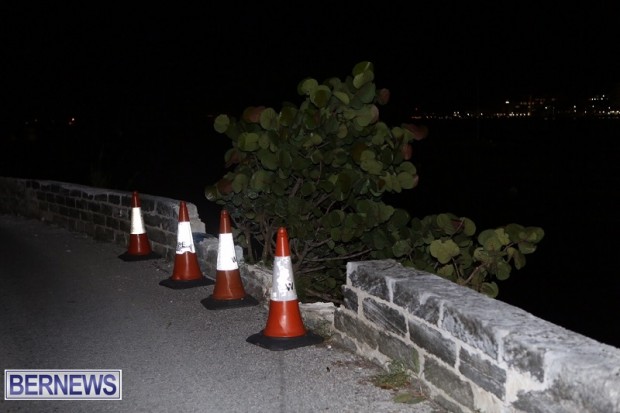 "During this time traffic diversions will occur at North Roundabout / Harbour Road and Chapel Road / Harbour Road, Paget. We would also like to thank the motoring public in advance for their consideration in this matter and we apologize for any inconvenience this may cause.
Update Oct 25, 9.39am: The car was removed from the harbour by a crane this morning, photos and videos of the process added below.
The process began at approximately 8.30am, with a police diver going in the water to disconnect the line that had fixed the car to the shore, and connect a line from the crane to the car.
The crane then pulled the car out, and held the car over the water for a while, allowing the water to drain out of the car. Following that, the crane lifted the car over the wall, and deposited it on Harbour Road, where it was subsequently taken away by a tow truck.
-
Click to enlarge photos:

Read More About
Category: Accidents and fires, Accidents/Fires, All, News, Photos, Videos