The Bermuda Gymnastics team kicked off the 2012-2013 season at Baltimore's "Christmas on the Chesapeake" Invitational this past weekend.
The BGA sent its upper level gymnasts to this event: competing at USAG Level 9 were Morgan Beckles (17, BHS), Gabby Vincent (15, Warwick Academy), Tabytha Hofheins (15, Warwick Academy), Sydney Mason (14, BHS), Clara James (12, BHS), Danielle Wall (12, BHS), and Sadia Wilson (12, BHS). In the level 8 division were Zantae Dill (14, Saltus), Samantha Soares (12, Warwick Academy), and Anna Francoeur (10. Warwick Academy). The girls traveled with head coach Duke Nelligan and assistant Mandi Baughman.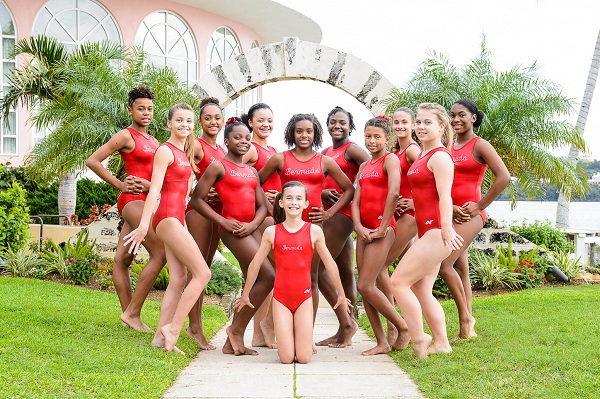 In each level the girls were divided into several different age groups. Top finishes in the Senior B group came from Tabytha Hofheins, 4th on floor with an 8.575, Morgan Beckles, 6th on vaulting with an 8.8, and Gabby Vincent, finishing 9th on vault with an 8.3. In the Senior A group, Sydney Mason had her best score on floor with an 8.0. Clara James had the top Junior B finish, 6th on vault with an 8.65, while Danielle Wall earned a medal for her all-around performance, 29.825 for 9th. In the Junior A group, Sadia Wilson turned in an 8.5 on beam for a 7th place medal.
In a competitive level 8 field, Zantae Dill had Bermuda's highest finish with a 7th place medal in the all-around (32.30). Anna Francoeur turned in the top individual score, on floor exercise with an 8.6, while Samantha Soares had her highest finish on balance beam, with an 8.575.
This was the third appearance at the Christmas on the Chesapeake Invitational for the Bermuda team, which has found the Invitational to be a display of some of the USA's best young gymnasts. As Bermuda's upper level gymnasts gear up for this summer's Island Games (July 13th-17th), it is vital that the team gathers as much competitive experience as possible.
"This was the start of a very important season for us! Each gymnast had new, high level skills to perform for the first time in competition. It is really important for the girls to have several opportunities to compete these skills before Island Games, so their confidence is peaking at that time. So this meet was an important part of our plan towards putting together our best Team Bermuda for July", says coach Nelligan.
The gymnasts return to action in just a few weeks on Saturday, January 12th, when Bermuda Gymnastics hosts its 2nd annual International Gymnastics Challenge, at the National Training Center in St. Davids. This year the BGA welcomes 5 teams, from USA and Canada, to the competition. All members of the Bermuda Gymnastics team, ages 8-17, will be competing, and the public is encouraged to attend.
- Photo by Alex Masters
Read More About