The Bermuda Gymnastics Association's third annual International Gymnastics Challenge took place on Saturday [Nov 16] at the National Training Center in St. David's with teams from Bermuda, Canada, New Jersey, New York, California and Massachusetts all competing.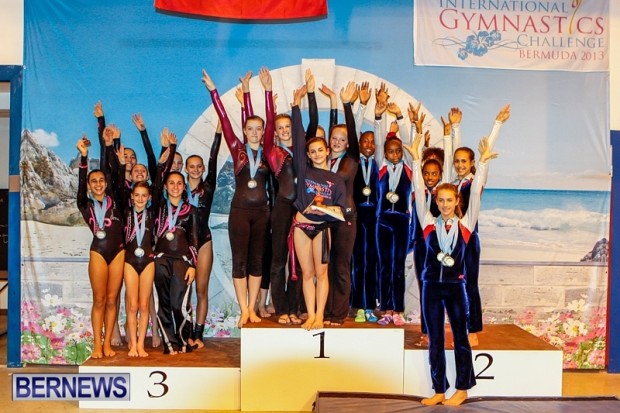 Bermuda gymnasts racked up 35 individuals Gold Medals in the meet, which saw participating teams including host Bermuda Gymnastics Association; Hills Gymnastics from New York, Payke Shooting Stars from California, Freehold Gymnastics from New Jersey, Planet Gymnastics from Mass, NYC Elite Gymnastics from NYC, GymNation Gymnastics from New York, Island Gymnastics from Canada, Westys Gymnastics from New Jersey, and Flyers Gymnastics from New Jersey.
In Session 1 for Copper and Bronze Levels, the overall team results saw Bermuda in first with 110.8, NYC Elite second with 106.6 and Hills Gymnastics third with 105.15. In Session 2 for Silver Levels, TIE Bermuda and Planet Gymnastics tied for first with 107.6, while Hills Gymnastics was third with 105.95. In Session 3 for Gold and Platinum Levels, Bermuda placed first, Island Gymnastics was second and Flyers Gymnastics was third.
International Gymnastics Challenge Uneven Bars:
International Gymnastics Challenge Vault:
International Gymnastics Challenge Beam:
International Gymnastics Challenge Floor Routines:
International Gymnastics Challenge Gold & Platinum Teams March In:
Rhythmic Gymnastics Display at the International Gymnastics Challenge:
Read More About