Nahki Wells is popping up all over the place — well his face is — as face masks depicting the striker are on sale, and Bradford fans are eagerly snapping them up ahead of the Cup Final at Wembley next weekend. "Wells" has been spotted hanging out with friends, laying in bed, relaxing with a glass of wine and more.
The novelty face masks are selling for £1.50 [$2.30], and go on sale as both Bradford City fans and Bermudians eagerly anticipate the Capital One Cup Final between Bradford and Swansea on February 24th.
The match will be played at the historic Wembley stadium, with Wells set to join an elite group of footballers to have played at the prestigious stadium. The former Dandy Town player has 18 goals thus far this season, making him the leading scorer for Bradford and one of the top scorers in all of League Two.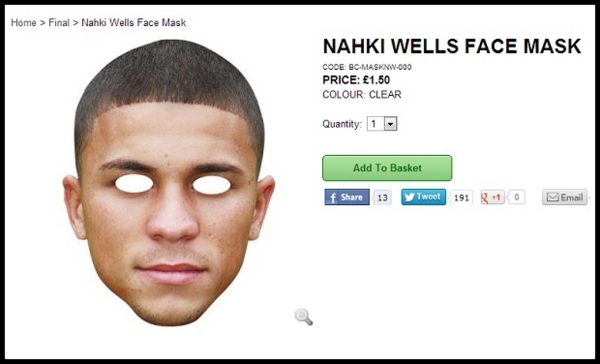 Nahki Wells 'look-alikes' can be seen on Facebook, Twitter and Instagram, with some of the Bradford City's fan photos that were tweeted below. One fan posted photos of both himself and his mother in the Nahki Wells masks, and noted he got a "few interesting looks" as he was driving around wearing it.
The 22-year-old Bermudian's face is being 'loaned out' for a good cause, with a portion of each sale donated to the Bradford Burns Unit – a research facility which was opened following the Bradford Fire Disaster of 1985, which saw over 50 people killed and hundreds injured after a fire broke out during a football game.
My mum ready for Wembley in her @nahkiwells mask #jumpingonthebandwagon twitter.com/AaaDee9/status…

— Adam Bell (@AaaDee9) February 15, 2013
Got a few interesting looks driving round Bradford in my @nahkiwells mask #hero twitter.com/AaaDee9/status…

— Adam Bell (@AaaDee9) February 15, 2013
@nahkiwells my dad left this in my bed #shitmyself twitter.com/Harrydibb/stat…

— Harry Dibb (@Harrydibb) February 13, 2013
@nahkiwells I look a lot like you! How freaky is this! RT? #Legend twitter.com/FrankieFryer_1…

— Curtis McHugh Nørth (@FrankieFryer_16) February 10, 2013
@nahkiwells relaxing with a glass of red after the game. twitter.com/jasonmarkabbot…

— Jason Abbott (@jasonmarkabbott) February 9, 2013
@tomdolan101 @shaunloasby remember nahki wells for bradford.I stole his face twitter.com/samlister95/st…

— Sam bcafc Lister(@samlister95) February 9, 2013
Nahki Wells, Nahki Wells, Nahki Nahki Wells! #bcafc Don't I make a good striker!? twitter.com/BethanyAmber94…

— BethanyAmber Dimmock (@BethanyAmber94) February 9, 2013
Oh my god @nahkiwells is in nandos xx what a hottie lol #bcafc #nahkiwells #bradfordcity twitter.com/IAmMizsyB_/sta…

— Suniia B (@IAmMizsyB_) February 9, 2013
Read More About