Bermuda Economic Development Corporation [BEDC] in partnership with HSBC Bermuda is co-hosting a two hour business seminar, "Planning for Change" on Wednesday 13 March.
The seminar will feature Ms. Francine Mason, a partner with the international corporate and financial advisory firm Rawlinson & Hunter, who will provide expert advice on strategic planning for businesses. Ms. Tamara Richardson, Vice-President of Sales and Operations at People's Pharmacy, will share the story of her own company's journey towards growth. Mr. Ray Jones, Finance Director of BEDC, will round out the presenters.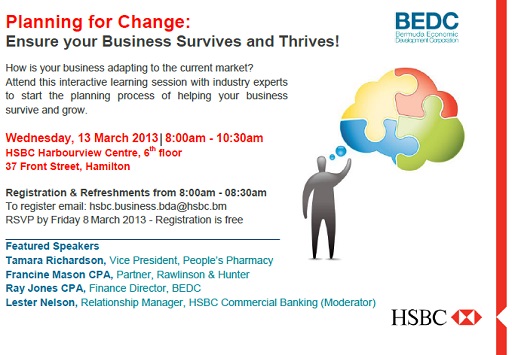 Ms. Trina Roberts, Head of Business Banking at HSBC Bermuda, stated, "It's important to take a step back from time to time to make an objective assessment of where your business is and where it's headed. Creating or reviewing your businesses' strategic plan helps you to shift your focus from the day-to-day operations of the company to monitoring the long-term health of your business and its strategic positioning in the market. Otherwise said, taking a moment to work 'on' your business rather than 'in' it."
The seminar will take place from 8:30a.m. to 10:30a.m. at HSBC Harobourview Bank on Front Street and registration is free. For more information, please call 299 5541 or email hsbc.business.bda@hsbc.bm to register.
Read More About