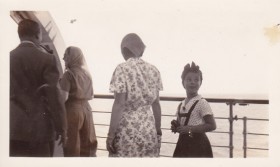 As a nine-year-old in July, 1938 she embarked for a holiday in Bermuda accompanied by her parents, two toy dolls, three armed bodyguards and a new insurance policy taken out by Hollywood studio Twentieth-Century Fox for $1,685,000.
At the time she set sail for the island from New York aboard "The Queen of Bermuda", Shirley Temple was the world's biggest — and smallest — movie star [she is pictured here aboard the luxury liner while it was en route to the island]. The daughter of a California bank clerk, she was born in 1928 just a bus ride from Hollywood and thrust into the movies at the age of three by her fantastically ambitious mother.
As British film historian Philip French said by 1934 she had gone "from supporting to starring roles, had two hit songs — "Baby Take a Bow" and "The Good Ship Lollipop" — and was the eighth biggest box-office attraction in America.
"For the next five years, her confidence as a performer and brilliance as a mimic  – in 'Stowaway' she impersonated Eddie Cantor, Al Jolson, Bing Crosby, Ginger Rogers and Alice Faye in one virtuoso sequence, as well as conversing in Chinese — made her the biggest child phenomenon ever known. She was Twentieth Century Fox's greatest asset, the centre of a little industry of commercial spin-offs, the sweet, curly-haired, dimpled kid that every mother wanted her daughter to look like and the top-ranking Hollywood star, a key figure of the Depression era."
Her departure for a brief holiday in Bermuda in 1938 made front page news around the world.
"Shirley Temple, following, a triumphal tour of New York State, during which she went swimming with Governor Lehman, Mrs. [Franklin] Roosevelt and the latter's grand-children, and was everywhere followed by enormous crowds, to-day sailed for Bermuda under circumstances of unmistakable grandeur," reported a contemporary newspaper.
Shirley Temple drives a horse-drawn carriage down Front Street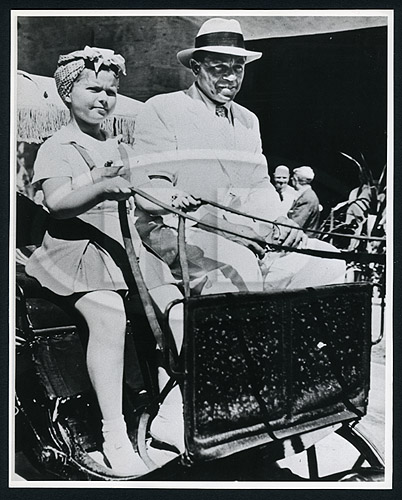 "The steamer ['Queen of Bermuda'] was late in sailing due to the tardy arrival of Shirley who, with her retinue, occupied the finest suite on board. She was accompanied by her parents, publicity agent, bodyguards and two servants.
"The ship's crew was drawn up on the gang plank and saluted as she came on board carrying two enormous dolls and dressed with the greatest chic. She talked to everyone with the most complete composure, and corrected a reporter on a question of geography connected with her trip."
She later recalled that "on the high seas travelling to Bermuda I steered an ocean liner" and that Captain Stanley Burns held an ice-cream party for her and other youngsters travelling aboard the vessel.
When the "Queen" berthed in Hamilton, she and her party were almost mobbed by crowds of enthusiastic local admirers.
Abandoning their usual composure in the face of celebrity – -Gary Cooper, one of the top leading men in Hollywood was routinely ignored when he visited Bermuda  – the young visitor was cheered and feted by locals throughout her week on the island.
Staying at the Castle Harbour Hotel, she visited various local attractions — including the Aquarium in Flatts. She is seen there below with American millionaire and philanthropist Vincent Astor who also invited the young movie sensation to ride on the then newly-installed narrow gauge private railway which ran through his 22-acre estate at Ferry Estate.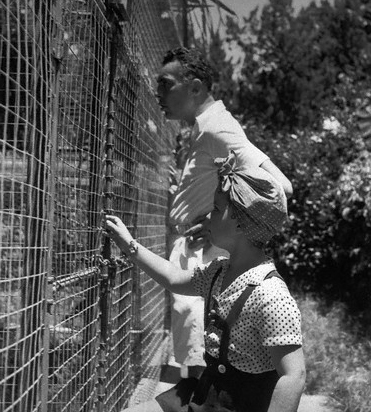 "The Bermudian" magazine reported that one of her young local admirers, nine-year-old David Wadson, worked up the courage to leave a message for the child star at the Castle Harbour Hotel, asking her to call him.
"When Shirley called David he asked her to a party at her house but Shirley's mother regretfully declined," said the magazine. "However, David was asked to one of Shirley's parties."
Also vacationing in Bermuda at the same time as Shirley Temple was actress and comedienne Beatrice Lillie.
Dubbed "the funniest woman in the world", the Canadian-born entertainer was the toast of two continents in the late 190s appearing in stage shows on Broadway and London's West End.
Working with the top headliners of the day and even having songs — and entire shows — written for her by the likes of Noel Coward and Cole Porter she was vacationing in Bermuda when Shirley Temple visited.
Ms Lillie invited Shirley Temple and her mother to a tea party at her rental property "Winterhaven" and the two performers former an immediate bond.
In her memoirs Ms Temple Black recalled frolicking with the veteran actress on the lawn at "Winterhaven" until "we collapsed in one mirthful heap, her shapely legs sticking out of her silk trousers, toes pointed toward the blue Bermuda sky."
Shirley Temple and Beatrice Lillie playing in Bermuda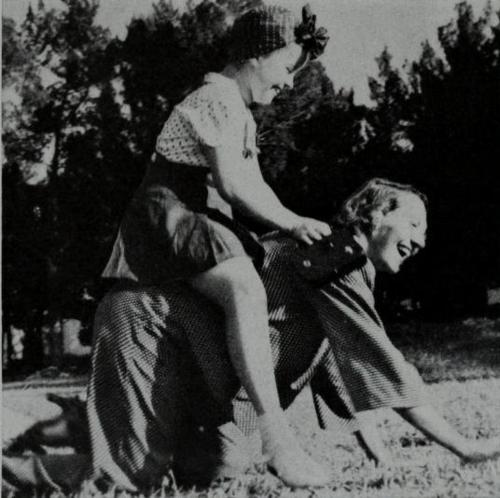 Retiring from motion pictures as a young adult following World War Two, Shirley Temple returned to Bermuda in 1952 shortly after her marriage to US Naval officer Charles Black.
In the 1960s she ventured into the political and diplomatic spheres. She was appointed Representative to the 24th United Nations General Assembly by President Richard M. Nixon and later served as US Ambassador to Ghana under President Gerald R. Ford.
She was named first female Chief of Protocol of the United States in 1976 and presided over arrangements for President Jimmy Carter's inauguration and inaugural ball.
Ms Temple Black had a front-row seat to history when she served as the United States Ambassador to Czechoslovakia between 1989  and 1992, witnessing that country's peaceful "Velvet Revolution" against its communist leadership and Soviet military occupation.
Read More About
Category: All, Entertainment, Films/Movies, History