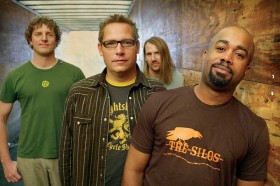 After the phenomenal success of their debut album "Cracked Rear View" in 1994 — it sold 16 million copies and spawned four hit singles — the band Hootie & The Blowfish retreated to Bermuda to work on their follow-up release "Fairweather Johnson", saluting the tranquility they found on the island in a track titled "Tucker's Town."
Released as a single in North America — with the video shot on location in Bermuda — alternative/roots rock band Hootie & The Blowfish hoped "Tucker's Town" would go some way to repaying the debt they felt they owed Bermuda when they found sanctuary here after unexpectedly rocketing to superstardom in North America.
The band also gave a concert in Bermuda to thank their local friends and fans for respecting their privacy while they recuperated from a gruelling tour schedule and wrote and rehearsed songs for their second album.
The Bermuda single cracked the Top 40 in the US — peaking at number 38 — on the Billboard chart but reached number two in Canada where the band was as especially popular, scoring three number one singles in the 1990s.
"Fairweather Johnson" entered the US charts at number one when it was released on April 23, 1996 and went on to sell more than 2,361,000 copies.
Formed by friends Darius Rucker, Dean Felber, Jim Sonefeld and Mark Bryan.when they were students at the University of South Carolina, Hootie & The Blowfish went on to record another three studio albums and chart a dozen more singles before going on hiatus in 2010.
"Tucker's Town" [1996] by Hootie & The Blowfish
In December, 2000 Hootie frontman Darius Rucker married longtime girlfriend Beth Ann Leonard in Bermuda.
Mr. Rucker — who once performed an impromptu gig at a Hamilton pub while the band was working on the "Fairweather Johnson" songs — has referred to Bermuda as "paradise" in interviews.
He and his wife — who now have a son and a daughter — still visit the island when his touring schedule allows.
In recent years Mr. Rucker, now 47, has launched a hugely successful solo career as a Country & Western artist, becoming the first African American to chart number one hits the Hot Country Songs charts since Charley Pride in 1983. In 2009, he became the first African American to win the New Artist Award from the Country Music Association, and only the second African American to win any award from the association.
His second C&W album, "Charleston, SC 1966″, was released in 2010 and included the number-one singles "Come Back Song" and "This."
Read More About
Category: All, Entertainment, Films/Movies