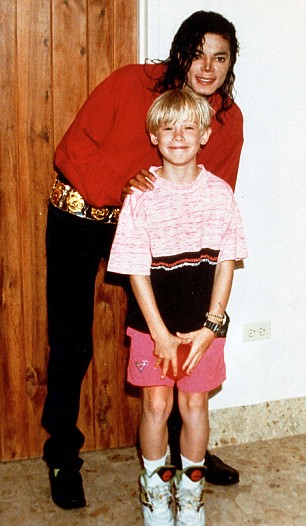 When self-styled Peter Pan Of Pop Michael Jackson descended on Bermuda in June, 1991 with 11-year-old child star Macaulay Culkin in tow, a media frenzy broke out at the Princess Hotel in Hamilton.
The local press — which for decades has taken a hands-off approach to visiting celebrities, allowing them to enjoy their Bermuda vacations unmolested — uncharacteristically descended on the hotel en masse to interview and film the odd superstar couple. Reports about the singer-songwriter — who had just renewed his contract with Sony for $65 million, a record-breaking deal at the time — vacationing in Bermuda with the young "Home Alone" star were picked up by tabloids and gossip magazines around the world.
Mr. Jackson's former publicist Bob Jones — who coined his former employer's title "The King of Pop" — later recalled the extensive Bermuda media coverage was engineered by the "Thriller" and "Bad" recording artist himself.
"The King wanted to impress Mac, as he likes to impress everyone, with the fact that he is sought after by the media," Mr. Jones recounted in his 2005 book "Michael Jackson: The Man Behind The Mask."
"He wanted to demonstrate to Mac that he was so popular that people would go wild for him no matter where he'd go. To prove this point, we had to bang the drums, if you will, to create a stir without letting anyone know that the furor had been fabricated within our own camp."
Mr. Jones and his staff had been delegated by Mr. Jackson to not only tip off the local press about his visit but to mount an entire "mini-PR campaign" which would ensure maximum world-wide media exposure for the Bermuda trip.
A friend and confidante of Michael Jackson's since the multi-talented entertainer burst onto the international music scene as a member of the Jackson 5 in the early 1970s, Mr. Jones said such public adulation was a substitute for the love the superstar felt he had been denied during his days as a child musical prodigy.
Michael Jackson and child star Macaulay Culkin in Bermuda in 1991
As a one-time child star himself, Mr. Jackson had started courting prominent young celebrity entertainers in his post-"Thriller hey-dey in the mid-1980s because he said he could identify with the isolated fishbowl existences they lived.
He had befriended Macaulay Culkin after the release of the young actor's blockbuster film "Home Alone" in 1990, asking him to appear in the epic 11-minute video for his 1991 song "Black Or White."
When Mr. Jackson — who was then 33 years old — heard Macaulay was accompanying friend Brock Goldstein on a family vacation to Bermuda, he essentially invited himself along.
He turned up "at their hotel in Bermuda with a shy smile on his famous face, and a trunkful of squirt guns, race cars and stink bombs on his bed in the VIP suite" Brock's parents Alan and Lynn Goldstein told the "Washington Post" in a 2005 interview.
Mr. Goldstein recalled getting a call from the superstar asking if he could join the family and Macauley in Bermuda.
The "Post" account said: "The world's best-selling voice came on the other line. 'Well, I just need a break', Mr. Jackson explained. 'Would you mind?' Mr. Goldstein, who then lived in Florida, started scrambling to find suitable quarters, until Mr. Jackson called back and said he had it all arranged — two suites at the luxurious Hamilton Princess.
"Mr. Goldstein swallowed hard. 'I can't afford that', he admitted. 'Don't worry', Mr. Jackson assured him, 'everything's on me.'
"He turned up the next day in 'his standard red shirt, black pants, yellow socks and wide-brim hat', Mr. Goldstein, recalled … Mr. Jackson invited the gang up to his suite."
Michael Jackson and  Macaulay Culkin greet admirers at the Princess Hotel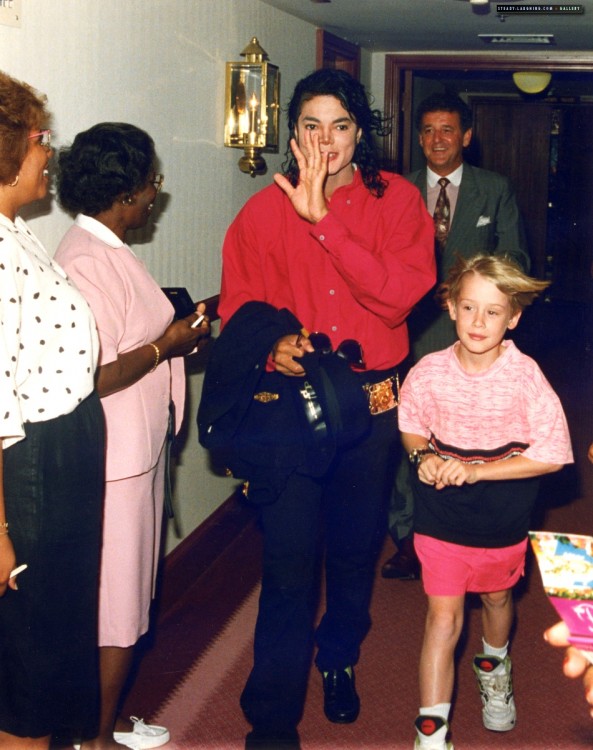 "He'd brought this huge trunk. He threw it up on the bed and opened it up," Mr. Goldstein said. "It looked like he'd raided a Toys R Us. He's got water guns, race cars, chewing gum that made your mouth turn black, snap-and-pops … "
Mr. Jackson travelled to Bermuda alone, and the role of surrogate-manager fell to Mrs. Goldstein, who made sure the star's meals were vegetarian and that hotel management kept fans at bay.
"But with Jackson on board, dreams of sunny days on the beach disappeared, and they all became Vacationers of the Night, venturing out in the wee hours to protect Jackson and Culkin from being mobbed," said the "Post" report. "That meant 2 a.m. dips in the hotel pool, room service instead of restaurants, shopping trips arranged after stores closed to the public.
"We were talking one day about how it might be fun to try diving," Alan Goldstein said, "and next thing you know, we've got a dive boat to ourselves with some dive masters to teach us."
When the family wanted to see a variety show at the Southampton Princess hotel, the cast put on a private performance at one in the morning in an otherwise empty auditorium, the Goldsteins said. "There was a Michael Jackson impersonator, which was a little awkward, but Michael was fine with it," said Mr. Goldstein.
Brock Goldstein remembered the "once-in-your-lifetime" excitement of his favourite music star suddenly becoming a playmate. He remembers Jackson pulling out a small laser light and taking the boys out on the balcony to shine the beam down on bewildered beachgoers
"We'd try to get them to follow it," he recalled. "We'd be calling out: 'Follow the red liiiiight, follow the red liiiight. The red light has a present for you! Look, it's a red balloon!' " The three would then hurl water balloons at their targets, ducking behind the balcony and collapsing in laughter.
While on the island Mr. Jackson and Macaulay Culkin went boating with millionaire businessman Ross Perot — the part-time Bermuda resident who twice ran as an independent candidate for the US Presidency — but declined an invitation to visit the West End estate of "Saturday Night Fever" producer and Bee Gees manager Robert Stigwood.
Bermuda radio personality Ms Thang [Kristy Burgess] has recalled meeting the King of Pop at the Princess Hotel when she was a little girl.
She ran into him when the visiting superstar was getting into a taxi at the entrance of the hotel.
""He shook my hand and gave me a big hug," she told a local newspaper following Mr. Jackson's death in 2009.
Ms Thang was then invited to get into the taxi with the pop icon where they had a conversation which lasted for about five minutes. The DJ said at that moment  she was "the happiest child in the world."
"He was on his own, he was wearing a red shirt, black trousers and his usual hat. He was very softly spoken, he asked my name and my age, he was like any normal person.
"I told him I'd been his fan forever, then I told him I thought he was gorgeous and he blushed."
She added: "I was smitten with him and I still am."
In 2005 Macaulay Culkin testified at Michael Jackson's California trial when the singer was charged with abusing children staying at his Neverland Ranch. Questioned about the Bermuda trip, the one-time child star — who was then 25 — said the singer never molested him or touched him in improper ways, calling such suggestions "absolutely ridiculous."
Mr. Jackson was acquitted on all counts at that trial; in 1993 he was also accused of child sexual abuse, but that case was settled out of court.
Michael Jackson and  Macaulay Culkin in the lobby of the Princess Hotel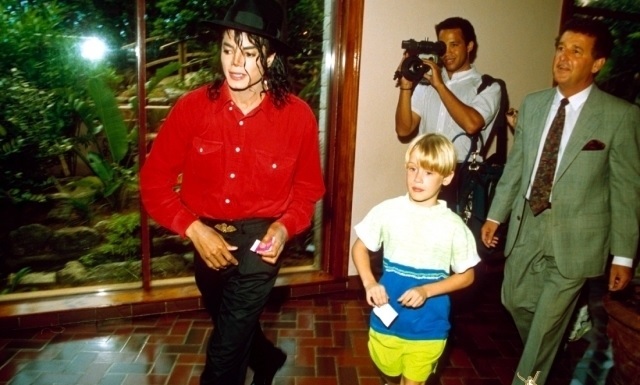 The Goldstein family also adamantly denied that anything untoward happened in Bermuda in their 2005 interview.
Mrs. Goldsten said during one conversation in Bermuda, she recalled, Mr. Jackson turned to her and said wistfully: "'You know, kids are different than adults. Kids are honest with you. You can trust them. I haven't met an adult who has been my friend without ending up wanting something from me.' "
"He was like one of us," Brock Goldstein said of Mr. Jackson, and his childlike antics in Bermuda. "It makes perfect sense to me because he never had a childhood."
The pop icon died in Los Angeles in 2009 of a heart attack brought on by prescription drug abuse when he was on the eve of mounting a major comeback tour. He was 50 years old. Widely recognised as one of the most successful entertainers of the 20th century, his contributions to music, dance, and fashion — along with his highly publicised personal life — had made him a global figure in popular culture for more than four decades.
- Photos courtesy of Ernie McCreight, Visual Impact Photography
Read More About
Category: All, Entertainment, Films/Movies, Videos