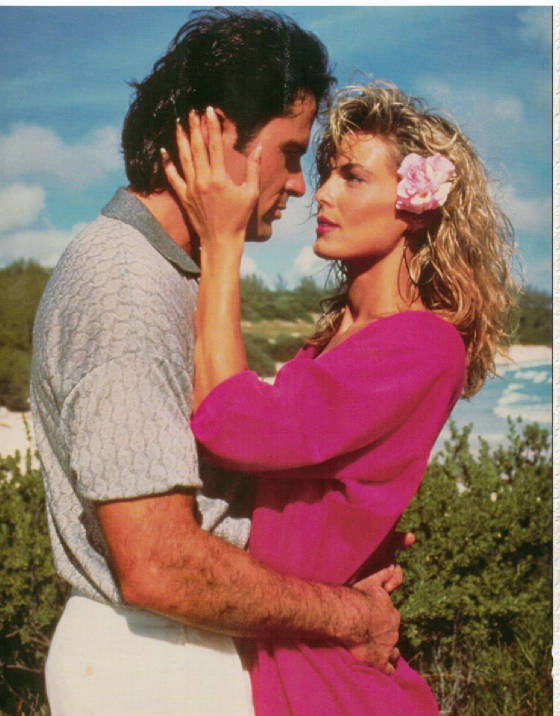 Bermuda tourism cleaned up in terms of TV exposure when two popular CBS soap operas did location shooting on the island in the 1980s and '90s.
While they were appearing in "As The World Turns", future movie siren Meg Ryan and one-time "Man From UNCLE" TV show star David McCallum appeared in a number of  sequences shot aboard a  cruise ship and in Bermuda in 1983.
"'I've always wanted to do a soap," Mr. McCallum said in an interview at the time. "Partly because I have an ego that says I like pressure. But also, it gives you instant exposure. Exposure is so important."
"I went to England for four years [to worked on a TV series] and everyone on this side of the Atlantic thought I was dead." .
The "As The World Turns" storyline featuring Mr. McCallum culminated with a number of episodes taped en route to Bermuda aboard the M.V. "Atlantic" and while the ship was moored alongside Front Street.
"I've always wanted to take a cruise," Mr. McCallum said, "but never did because I didn't know if I was a cruise person. I still don't. I spent 20 hours a day working in the bowels of the ship."
A large number of Bermudians and Bermuda residents appeared as extras in a climactic shipboard auction sequence shot on the "Atlantic". The late John Instone — full-time Police media relations officer at the time and a gifted part-time amateur actor — actually arrested Mr. McCallum's villainous Maurice Vermeil character with a squad of Bermuda's finest at the conclusion of the final auction scene. There are some blurry clips of the Bermuda shoot here,
David McCallum and co-star Frank Runyeon aboard the cruise ship "Atlantic" in Hamilton Harbour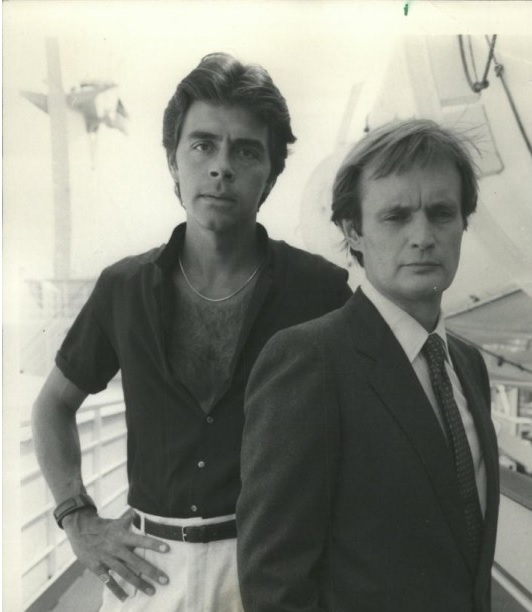 A few years later "The Young & The Restless" — then wildly popular on the island — did extensive location shooting here for a Bermuda-themed 1990 storyline.
The typically convoluted — and addictive — plot involved a murderer from the soap's fictional Genoa City being tracked to the island by a father/son detective team after he flees here with his lover who he has framed for her husband's death.
Featuring statuesque American-Norwegian actress Nina Arvesen [pictured at top at a South Shore beach] as haunted murder suspect Cassandra Rawlins, "The Bermuda Triangle" episodes captivated millions of fans throughout the US and Canada and scored record daytime viewership ratings which stand to this day.
"One of the first serials to venture outside the confines of its studio to present brilliantly executed action sequences 'on location', the [Bermuda  shoot] began a tradition of complex stunts, staged outside the CBS studios, which solidified 'Y&R's' reputation for innovative, briskly paced drama," says CBS.
In the Bermuda episodes Cassandra Rawlins was meeting a mysterious man named Adrian Hunter promising him that she was desperate to leave Genoa City and start a new life with him.
Adrian blackmailed Cassandra into marriage. Private detective Paul Williams — her jilted ex-boyfriend — and his father, police officer Carl Williams, followed Cassandra and her lover Adrian to Bermuda. While on the island Paul and Carl tormented Cassandra with visions of Paul as a ghost.
Horrified, Cassandra quickly returned home to Genoa City. Soon after, Cassandra confessed that on the night that George was murdered, she was knocked unconscious.
When she awoke, there was a gun in her hand and her husband was dead. With Cassandra's help, business tycoon Victor Newman came up with an elaborate plan to get Adrian to return to the States so he could be arrested.
Cassandra called Adrian and told him that she was being held prisoner by Victor, was tied to a chair, had a gun pointed at her and a block of melting ice rigged to fire it. When Adrian arrived to save her, Victor and Paul captured him. Carl arrested Adrian and succeeded in exposing him as George's killer.
The "Y&R" episodes featured some picturesque travelogue-type footage of the island — and all manner of Bermudians [ranging from veteran hotel and nightclub entertainer Gene Steede to lawyer/playwright Warren Cabral] popped up in bit parts.
Because the soap was broadcast on ZBM in the early evening instead of in mid-afternoon as is the case in North America, beginning in the late 1980s "The Young and The Restless" started to draw a large and enthusiastic Bermuda audience of working men and women who did not otherwise watch daytime dramas.
Talking about her time on the island when "The Bermuda Triangle" episodes were airing and setting ratings records, Ms Arvesen remarked on the show's phenomenal local popularity: "We're number one in Bermuda."
Ms Arvesen — who went on to appear in the NBC daytime drama "Santa Barbara" — continued: "We used to be on at 5 p.m. Everyone wanted to leave work early to catch the show, so they had to move it to 6 p.m.
"For some reason the show is very popular in hot climates like Trinidad, Teheran and Australia."
The daughter of a Norwegian diplomat, American-born Ms Arvesen grew up in the US, Egypt, South America and Scandinavia. She started dance and piano lessons at age four and by 16 had placed third in a national competition of Norway's most promising classical pianists.
Hailed by critcs and soap fans as one of daytime's most compelling actresses for her role as the mysterious Cassandra on "The Young & The Restless", she retired from television and movies to run a dance studio in Santa Monica, California.
Members of the "Y&R" cast including Eric Braeden [who plays the show's iconic anti-hero Victor Newman], Doug Davidson [Paul Williams] and Victoria Rowell [Drucilla Winter] have visited the island to participate at various charity events.
At one point several cast members came to Bermuda to appear in a nightclub variety show.
Read More About
Category: All, Entertainment, Films/Movies, History, Videos