[Updated with photos] Devonshire Cougars lifted the trophy as they defeated Somerset Trojans 3-0 in the FA Challenge Cup Final at the National Sports Center this afternoon [Apr 7].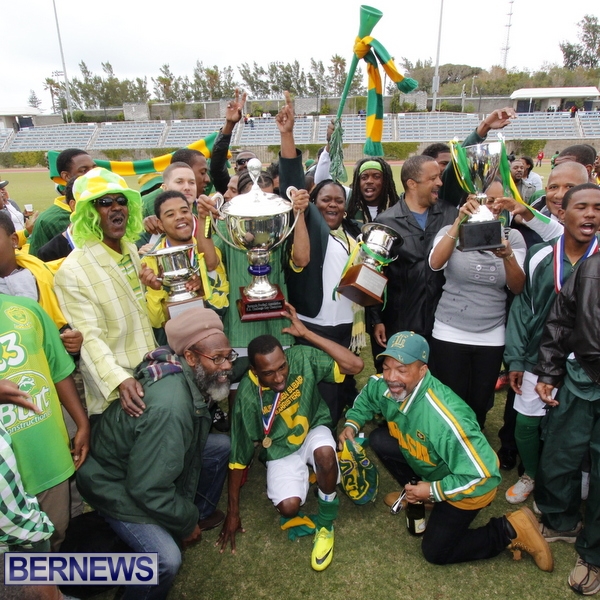 Moses Steede converted from the penalty spot in the 21st minute to give the Devonshire Cougars the lead after the Somerset Trojans goalkeeper committed a foul in the box. The teams went into the half time break with Cougars leading 1-0.
In the 77th minute the Somerset Trojans had a chance to score the equalizer when a handball inside the box was called a penalty. Somerset's Ijahmon Mallory stepped up to take the spot kick, however Cougars goalkeeper Kioshi Trott dove to his right to make the save.
Cougars then earned their second goal courtesy of Domico Coddington, and in injury time Moses Steede added the icing on the cake with the third goal giving the Devonshire Cougars the 3-0 win.
Their win today gave gave them the 'Triple Crown,' with Cougars having already claimed the Digicel Premier League and Friendship Trophy titles.
Update Apr 8: Shadow Minister of Sports Michael Weeks today congratulated the Devonshire Cougars for their triple crown season having won the League, FA and Friendship cups.
Mr. Weeks said, "The Devonshire Cougers have earned their place in history with this remarkable achievement. This outcome is evidence of the hard work and determination of the players and the commitment of the executive and supporters of Devonshire Cougers. We are sure Dame Lois Brown- Evans is celebrating in heaven today after witnessing the skill and determination of her beloved cougars! Well done to these outstanding young Bermudians."
Click photos to enlarge:
Read More About