Speaking after the Devonshire Cougars claimed the coveted 'Triple Crown,' Club President Nadine Browne-Evans said she was proud of the team and humbled by their success.
On Sunday [Apr 7] the Cougars won the FA Cup Final, which gave them the 'Triple Crown' as they had already claimed the Digicel Premier League and Friendship Trophy titles.
"I am most proud of my team and humbled by their success. In my first year as President, first female President, our club's Premier Players secured a most memorable accomplishment," said Ms Browne-Evans.
"I recall early this season the young men, alongside their coaches, privately declared their destiny [Triple Crown] and through hard work, sacrifice fueled by determination and dedication my soldiers on the field of play delivered on their promise.
Ms Browne-Evans and Cougars fans and players celebrate their victory: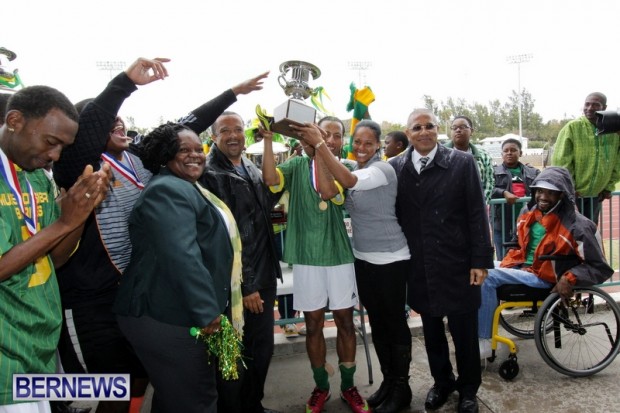 "I look forward to next season with a spirit full of energy and excitement as these young men have achieved a moment in history for DRC," continued Ms Browne Evans.
"I acknowledge the diligent efforts of Coach Dennis Brown [The Quiet Storm of Order], Assistant Coaches; Errol Rhoda, Dago Steede, Kwame Steede and Shawn Smith; these men bring the necessary support for our team to flourish.
"Undeniably, the club and players are continuously supported by faithful members, family, friends and Cougar fans whose works over the season I wholeheartedly appreciate.
"It can be said, the players have not only set the bar high for the sport, but also for club members to continue the work of restoring DRC to an illustrious state.
"I am further encouraged as many of the senior players have committed to the rejuvenation of the Youth Soccer Programme through coaching and mentoring.
"With these positive boost coupled with our continued efforts to reach out to community stakeholders for partnership to increase support and activity on our campus – DRC will continue to be a pillar in this community.
"We are hopeful to be acknowledged by the Premier and Minister responsible for Sports this weekend. Then once again share our joy with neighborhoods and sister clubs. Looking forward to The Devonshire Recreation Club, Inc., The Cougar Nation rising," concluded Ms Browne-Evans.
Read More About