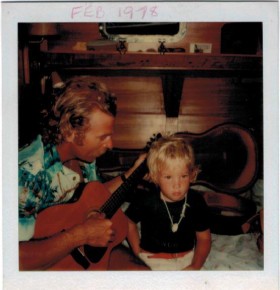 Bermuda's reggae/folk rock artist Mishka was performing in Nashville last night [Apr. 26], the first gig in a four-city mini-tour that will also see him giving concerts in Georgia and Texas over the next week.
Singer/songwriter Mishka is currently signed with  recording legend Jimmy Buffett's Mailboat Records.
Mr. Buffett, whose songs have made him synonomous with a laid-back island lifestyle, first met Mishka when he was only four years old.
Born in Bermuda and raised in the Caribbean, Mishka Frith and his sisters — one of them future alternative rock star Heather Nova – were selling croissants in the French West Indies when he came upon the "Margaritaville" and "Cheeseburgers In Paradise" star himself. The acoustic-leaning American songwriter even wrote a song about that encounter with Mishka called "Chanson Pour Les Petis Enfants" [a picture of that early meeting is shown here].
Now the musicians' relationship has come full circle: not only is the Bermudian artist signed to Mr. Buffett's label but he also provided vocal contributions to  "Ocean Is My Potion", the title track on Mishka's recent chart-topping EP.
Jimmy Buffett and Mishka discuss his new EP and tour
Established in 1999, Key West-based Mailboat Records' first release was "Buffett's Buffett Live: Tuesdays, Thursdays, Saturdays."
In addition to Mr. Buffett and Mishka, the label's roster includes Dan Fogelberg, Bret Michaels, Boz Scaggs, Def Leppard and Walter Becker.
Mishka was signed to Alan McGee's Creation Records in the UK in 1997. In 1999, he released his first single, "Give You All The Love" which was an immediate success charting in the Top 40 in the UK and Top 10 in Japan.
Later in 1999 Mishka released his self-titled debut album Mishka [including Heather Nova on backing vocals] which received much critical acclaim in both the UK and Japan.
His 2009 album "Above the Bones" debuted at number one on the Billboard Reggae Charts, and Mishka was named that year's Best New Artist in the singer/songwriter category by iTunes.
Mishka announces mini-tour dates to his fans
Read More About
Category: All, Entertainment, Music