Bermuda's Jesse Washington has claimed his first gold medal of the 2013 Carifta Swimming Championships in Jamaica, racing to victory in the 13-14 100m freestyle.
The 13-year-old swimmer touched the wall in a time of 54.71, winning a gold medal and setting a new Bermuda record in the process.
This marked his second medal of these Games, following his bronze medal in the 13-14 boys 100m butterfly.
Jesse and Madelyn are pictured below with Sports Minister Wayne Scott: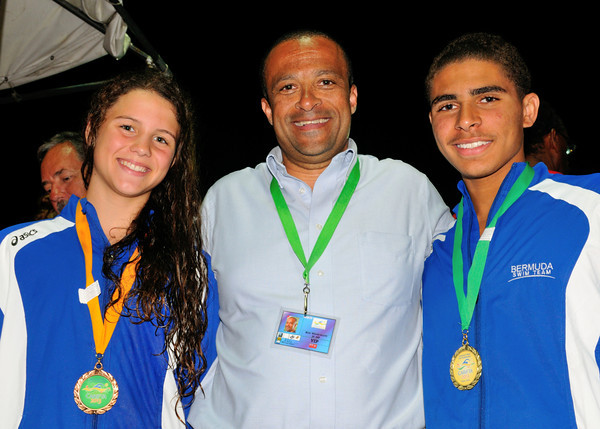 Madelyn Moore also earned a podium finish today, claiming a bronze medal in the 11/12 100m freestyle. The 12-year-old has won three medals in total thus far in the Games.
National Swim Coach Ben Smith said, "Maddie had a great swim in the 100 free and was actually leading for most of the rest. She is very pleased with her bronze.
"Jesse did capture the gold in the 100 free with an amazing 54.71 which lowers his new record from the morning. He never looked like he wouldn't win the race."
The two swimmers have combined to win a total of five medals in Jamaica, and Bermuda's track and field athletes have also won five medals in the Bahamas, where the track and field portion of the Carifta Games is being held.
Between the two venues Bermuda has won 10 medals in total – 3 gold, 3 silver and 4 bronze. The track and field portion concluded this evening, while the swimming portion continues tomorrow.
You can view all our coverage of the Carifta Games here.
Read More About