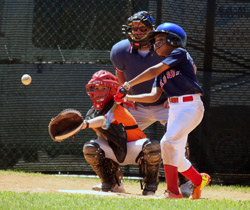 The Bermuda YAO Baseball Season continued at the YAO Ball Park on Saturday [Apr 20]. The Red Sox defeated the Orioles in a well-played game. Pitching 3 strong innings for the Red Sox was Narsje Brokington, giving up only 1 run. Brokington also contributed with an inside the park home run.
Sam Resnik, who was making his pitching debut in the Cal Ripken Division, pitched two strong innings striking out 3, while walking two.
Peter Sylvestor carried the load at catcher for the Red Sox and played well. Orioles received strong pitching from Brett Smith and strong hitting from Echo Valdez as well as fielding by Lauren Way.
The Orioles where looking for redemption following last Saturday's opening day loss to the Athletics at the YAO Ball Park in YAO Babe Ruth League action.
The Athletics started off the game very slowly not able to put any runs on the board until the 4th inning going on to win 22-14.
Corey Simas started the game on the mound and kept the A's in the game through the 3rd inning striking out 7. Simas also belted a Triple in the 4th inning that turning into an inside the park home-run after a throwing error. Jaylen Martin who was behind the plate for the A's had a single, double and 2 walks.
For the Orioles, Josh Allen certainly had the A's number after holding the A's to just 1 run through 4 innings, Allen was only a home-run shy of the cycle with a single, double and a triple. Liam Evans and KJ Moreno also both recorded 3 hits each on the day in the Orioles hands-down victory over the Athletics.
The Player of the Game was Josh Allen.
Read More About