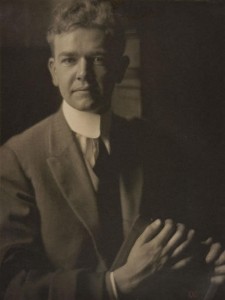 Shot on location in Bermuda in 1914, the silent movie "The Mystery of the Poison Pool" would be entirely forgotten today if the routine adventure thriller hadn't provided an unlikely introduction between two men who went on to become pre-eminent cinematographers in the American motion picture industry .
Now considered a lost film like 90 percent of the American movies made between the early 1900s and the introduction of sound in 1927, "The Mystery of the Poison Pool" had Bermuda standing in for Africa — unconvincingly, according to contemporary critics — in a story about greed, a stolen diamond and giant snakes.
Joe Cameron, an American prospecting for diamonds in Africa, is captured by cannibals and attacked by a python.
With the help of Corporal Walton of Her Majesty's Royal Mounted Police, though, Joe escapes.
Later, when he is falsely accused of a miner's murder, Joe's sole supporter is Dorothy, a young missionary who loves him.
Walton meanwhile is sent to capture the fugitive, unaware of the man's identity. He is defeated by Joe, but upon recognising his benefactor, Joe nurses Walton back to health, prevents him from drinking from a poison pool in his delirium and carries him back to civilisation.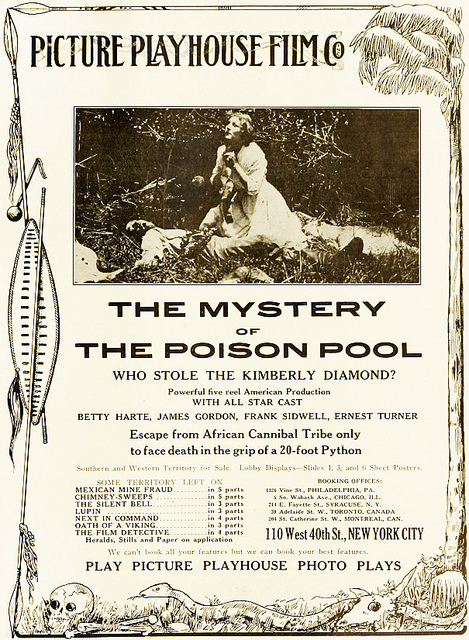 Finally, Dorothy discovers the body of the real murderer dead by the poison pool and is able to prevent Joe's execution.
"The Mystery of the Poison Pool" was one of a number of silent films shot in Bermuda; in 1913 the epic fantasy romance "Neptune's Daughter" – starring swimming champion-turned-actress Annette Kellerman [1886-1975] — was filmed at various locations around Bermuda including Agar's Island, the South Shore beaches and Crystal Caves. One of the biggest box office sensations of its day, "Neptune's Daughter" was called "the most marvellous photoplay ever produced" by one critic and grossed more than a million dollars at a time when the average movie ticket cost seven cents.
Acclaimed American photographer Karl Struss [1886-1981] — a regular visitor to the island — happened to be in Bermuda when "Mystery of the Poison Pool" was being shot working on a new guidebook for the Trade Development Board, forerunner of the modern Tourism Ministry.
"For several years Struss [pictured at top in 1912] had been working assiduously to promote himself as a commercial as well as an art photographer; his personal goal was to demonstrate that the two kinds of work were not incompatible," said one of Mr. Struss' biographers. "He took a new kind of camera with him on this Bermuda trip.
Harbour scene shot by Karl Struss in Bermuda in 1914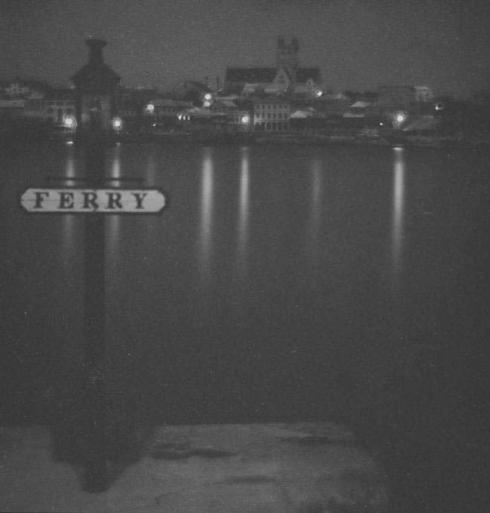 "Previously, his work had been done mostly in larger formats: a 4×5 camera for making contact platinum prints, and a 3×4 for making enlargement prints. The new 'multiple tourist camera' which he decided to use in Bermuda employed 50 foot rolls of 35mm motion picture film, allowing about 750 exposures per load. Overshooting like crazy because it was so easy — think digital photography today — he used up the entire roll within the first week; it would take more than a week to get more film from New York."
Fortunately Mr. Struss met "Mystery of the Poison Pool" cinematographer Charles Rosher [1885-1974] at one of the film's South Shore locations.
The English-born director of photography generously provided him with some short ends — leftover footage — so Mr. Struss could continue his work for the book "Bermuda: Nature's Fairyland."
Mr. Struss — who later travelled to California to work in the emerging motion picture medium — renewed his friendship Mr. Rosher in Hollywood.
And he found himself teamed with Mr. Rosher on the 1929 silent film classic "Sunrise" directed by German expatriate F.W. Murnau.
Later that year the two men, who had first met on a Bermuda beach 15 years earlier, shared the very first Academy Award ever presented for cinematography.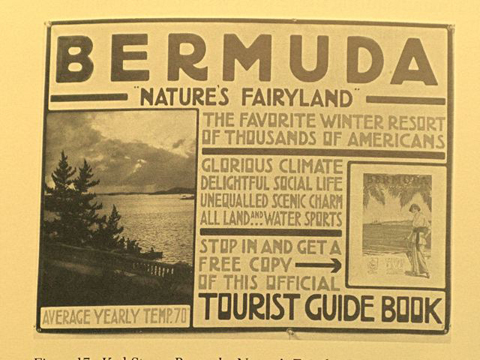 While Mr. Struss had a lengthy and successful career in cinematography — working on such films as the Oscar-winning 1931 version of "Dr. Jekyll & Mr. Hyde" and Cecil B. DeMille's Biblical epic "The Sign Of The Cross" — photography remained his first love.
He returned to Bermuda as late as the 1950s to work on commissions for the Trade Development Board and in 2011 the ACE Gallery held a major retrospective exhibition of his local photography.
Read More About
Category: All, Entertainment, Films/Movies, History