[Updated with video] Bermuda's Portuguese community came together today [May 5] to celebrate a centuries old tradition that originated in the Azores in the 17th century.
The "Festa do Senhor Santo Cristo dos Milagres" [Festival of the Christ of Miracles], sees a solemn procession through Hamilton with participants walking on a carpet of flowers set down beforehand.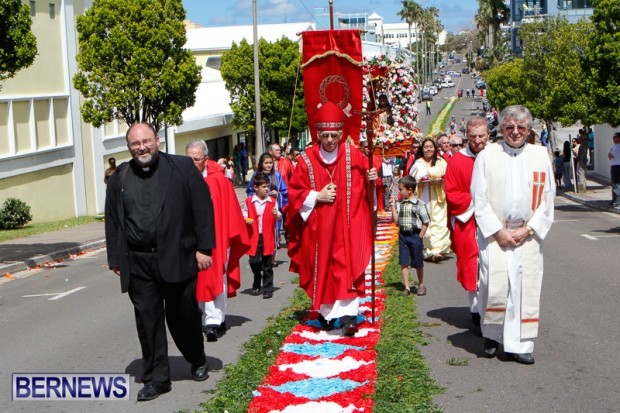 The Santo Cristo statue is carried from St Theresa's Cathedral along Cedar Avenue and Dundonald Street and back to the Cathedral. Clergy, adults and children in special attire walked through Hamilton followed by members and friends of the island's Portuguese community.
Nearly 400 years old, the Festival is the largest religious celebration of the Azores. It was celebrated this same weekend in the Azores, as well as by members of the Portuguese diaspora across the globe.
The first Portuguese immigrants arrived in Bermuda from Madeira on November 4, 1849 aboard the ship "Golden Rule."
The 58 immigrants — 35 men, 16 women and 7 children — were the first of many to arrive in Bermuda, and almost two centuries later Bermudians of Portuguese descent make up a substantial portion of the island's residents.
Click photos to enlarge:
Read More About