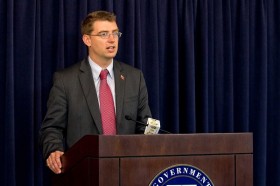 The Minister of Home Affairs Michael Fahy will be attending the International Labour Organization [ILO] Meeting of the Caribbean Labour Ministers in Trinidad & Tobago from July 2-3.
The theme of the two-day meeting is "The Caribbean and Labour 2013 and Beyond – Strengthening Decent Work for Development".
It is being organised by the ILO in collaboration with the Government of Trinidad & Tobago. The last Ministerial Meeting was held in Guyana in 2010.
This is the first such overseas meeting where Minister Fahy will be representing Bermuda on labour matters.
Minister Fahy said today, "Typically, the ILO Meeting of the Caribbean Ministers of Labour provides, among others, an opportunity to review items on the agendas of the International Labour Conference [ILC)]and the Governing Body of the ILO and to take a Caribbean position on critical issues related to employment and labour.
"It also allows newly appointed Ministers to meet and interact with their counterparts from other countries. So, I am looking forward to representing Bermuda at this forum and exchanging ideas and views with respective Labour Ministers from other jurisdictions."
Mr. Guy Ryder, ILO's Director-General, will also attend the meeting. The Director-General will address the Opening Ceremony of the Meeting, along with Trinidad & Tobago Prime Minister Kamla Persad-Bissessar.
Minister Fahy will be attending the meeting with the Director of Workforce Development George Outerbridge, and the Ministry said that all costs for the trip are covered by the ILO.
Minister Fahy said he will provide an update on the outcome of the meeting upon his return.
Read More About