ISACA Bermuda will be hosting a Lunch and Learn on Wednesday [July 10] at Ernst & Young, located in the XL Building on Bermudiana Road. Guest speaker for the event is the CEO of the Bermuda Regulatory Authority, Philip Micallef.
"The telecoms sector in Bermuda has undergone some major reforms, and the Regulatory Authority has been a frequent feature in the news recently", a spokesperson said. "In a rapidly-evolving sector, both in technological and commercial terms, the Regulatory Authority provides the framework for the introduction of new services.
"The Regulatory Authority has a wide range of responsibilities in electronic communication services and networks and spectrum management.
"The RA deals with complex issues of law, economics and technology, and it is responsible for promoting competition in the communications sector by facilitating market entry through ICOLs (Integrated Communication Operating License) to provide networks and services, and by regulating access to networks.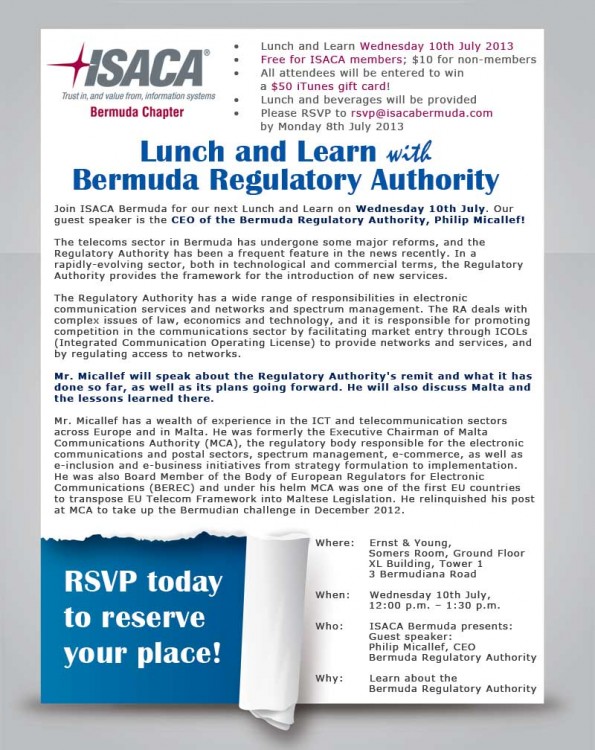 "Mr. Micallef will speak about the Regulatory Authority's remit and what it has done so far, as well as its plans going forward. He will also discuss Malta and the lessons learned there.
"Mr. Micallef has a wealth of experience in the ICT and telecommunication sectors across Europe and in Malta. He was formerly the Executive Chairman of Malta Communications Authority (MCA), the regulatory body responsible for the electronic communications and postal sectors, spectrum management, e-commerce, as well as e-inclusion and e-business initiatives from strategy formulation to implementation.
"He was also Board Member of the Body of European Regulators for Electronic Communications (BEREC) and under his helm MCA was one of the first EU countries to transpose EU Telecom Framework into Maltese Legislation. He relinquished his post at MCA to take up the Bermudian challenge in December 2012.
This Lunch and Learn event is free for ISACA members and $10 for non-members. All attendees will be entered to win a $50 iTunes gift card and lunch and beverages will be provided. Those interested in attending are asked to RSVP to rsvp@isacabermuda.com by Monday 8th July 2013.
Read More About
Category: All, Business, technology