[Updated with photos/info/video] With more than $300,000 prize money on the line, three marlins weighing over 500lbs were landed today [July 4], as the World Cup Blue Marlin Championship is underway with 46 teams in Bermuda competing with anglers around the world.
The "Sea Toy" pulled into Albouy's Point at around 10.30am with a 547lb catch, which was caught by Nancy Kohl from Ocean City, Maryland. Based in North Carolina, the 59-foot "Sea Toy" made the trip to Bermuda to compete in the tournament.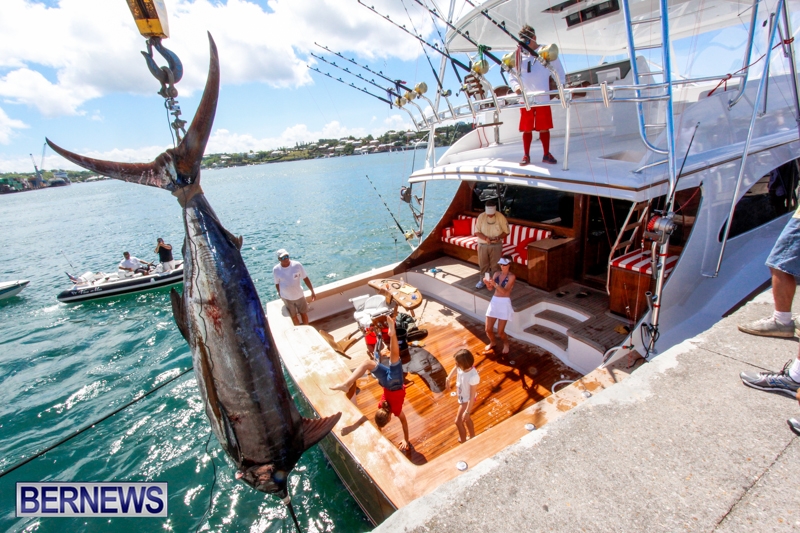 A few minutes later "Blank Check" came in with a 668lb catch, caught by Kevin Gaylord from North Carolina. The 77-foot boat also made the trek to Bermuda to compete in the tournament.
A small crowd gathered at the dock to welcome the anglers and watch them hoisted on the dock by a crane, and Minister Michael Dunkley could also been seen chatting with some the crowd and visiting anglers.
The tournament has a unique format which allows anglers anyplace in the world to enter. The rules allow for teams to fish for 8 hours with the heaviest blue marlin over 500 pounds taking all the winnings.
Teams have entered the World Cup in Bermuda, Hawaii, Madeira, Angola, Canary Islands, the Cape Verde Islands and other blue marlin hot spots in between. The tournament, now in its 29th year, has been won in 10 different locations around the world.
Bermuda and Hawaii are tied with the most wins and traditionally field the largest number of teams. Last year the "Queen of Hearts", fishing in Bermuda, won the tournament with a 768lb catch and collected the 6-figure prize money. The tournament is still underway, and we will update as able with more information.
Update 5.01pm: The tournament is not yet finished, however at this time the 668lb marlin caught in Bermuda holds the lead. The next closest at this time, by unofficial reports, is a 613lb catch in Cape Verde, which is located off the coast of Western Africa.
Update 5.24pm: Minister of Community & Cultural Development, Wayne Scott dropped by the weigh-in and met up with Bermuda Big Game Classic Tournament Director Dan Jacobs.
The Minister took the opportunity to express his appreciation and support for this year's tournament pointing out that it provides significant exposure for Bermuda as a premier visitor and sports fishing destination.
Minister Scott and Mr. Jacobs: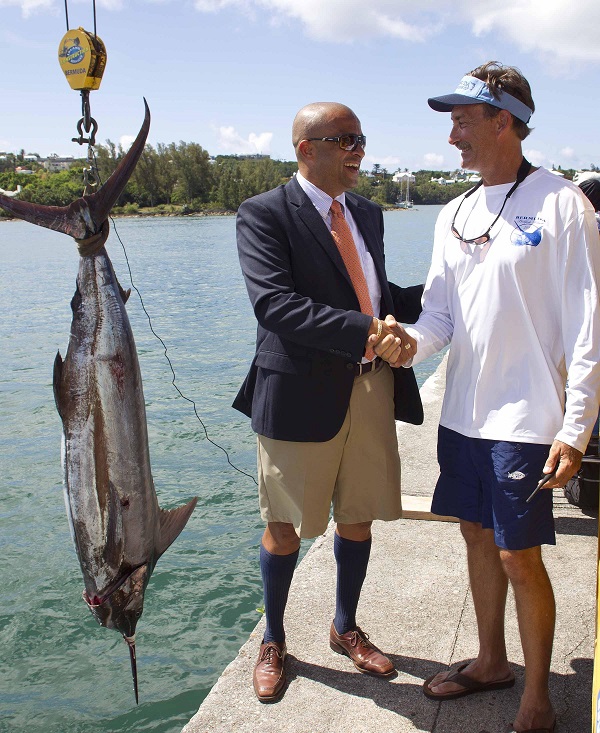 Update 5.56pm: Crowds gathered at Albouy's Point waiting for Bermudian Captain Peter Rans and "Overproof" to arrive at the dock with what many hoped to be a winning fish for the day.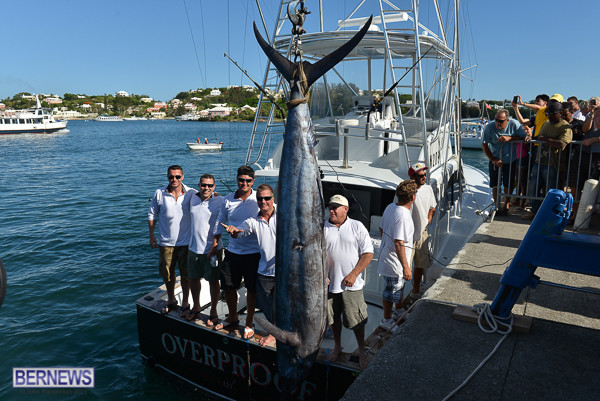 The gathered crowd was excited as they thought "Overproof" had a chance at toppling the previous high of 668lb, however when the crane hauled the fish out, it weighed in at 641lbs.
Tournament Director Dan Jacobs said the prize money is around $350,000.
Photos of all three marlins below, click to enlarge:
Read More About