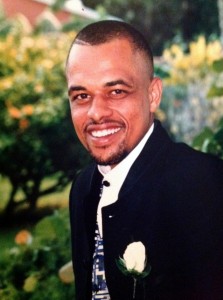 [Updated with video] CrimeStoppers has agreed to offer a monetary reward for information regarding the disappearance of Rudy Smith, Public Safety Minister Michael Dunkley said today [July 31].
Mr Smith [pictured] disappeared a year ago, and the police have officially classified his disappearance as a murder. He was last seen on 9 July 2012, and the police located Mr Smith's motorbike in the waters in front of Grace Church on North Shore on 16 July 2012.
Minister Dunkley said, "The disappearance of Rudy Smith just over a year ago has struck a chord in the community as we share in the grief of a family who cannot close this chapter in their lives because of the silence of those who might know what happened to this young man or those that have some information that could be very helpful to the Police in their investigations.
"Today I am joined by Rudy's mother, Mrs. Madeline Rampersad who commented last week at the vigil to remember her son that anyone with information should just come forward and say what they know to the Police.
"I agree with you and I know that many in the community do as well. Also joining me today is MP Glen Smith from Constituency 14 and MP Michael Weeks from Constituency 16 and the Global President of CrimeStoppers International Mr. Alex MacDonald. Thank you for being here today for this important press conference.
"I am pleased to announce that working together with the Ministry CrimeStoppers has agreed to offer a monetary reward for information regarding the disappearance of Rudy Smith. It is our belief that this announcement could act as an incentive to those who do have information to come forward. "If you know something, say something".
Minster Dunkley, Global President of CrimeStoppers International Alex MacDonald, MP Glen Smith, Rudy Smith's mother Mrs. Madeline Rampersad, MP Michael Weeks and Chief Inspector Nicholas Pedro.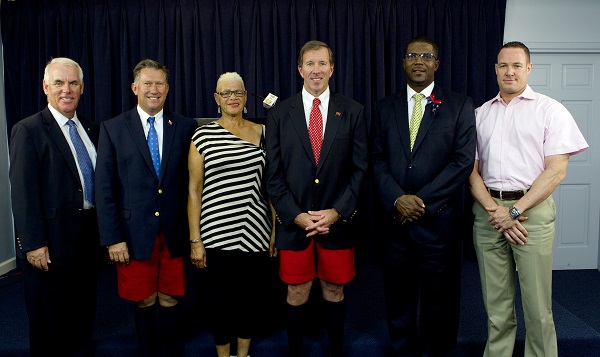 The Minister continued, "Rudy's family, friends and neighbourhood have all been impacted and affected in varying ways by his disappearance. I was comforted to learn that the area's representatives have been working with their constituents, listening to their concerns and where necessary, bringing those concerns forward to the Ministry.
"I would like to take this opportunity to thank MP Smith and Weeks for keeping their community's issues of public safety on the front burner but more importantly trying to bring comfort and closure to Ms. Rampersad during a very difficult period," concluded Minister Dunkley.
Anyone with information is urged to contact the Serious Crime Unit in confidence at 247-1185 or alternatively to call the confidential & anonymous Crime Stoppers hotline on 800-8477.
Read More About