On Wednesday [Aug 14], the Devonshire Parish Council awarded $15,000 in scholarship funds to six delighted residents.
"The Devonshire Parish Council is pleased to announce the recipients of its 2013 Scholarship Awards", a spokesperson said. "The recipients are all well rounded individuals who have a passion for the fields they have chosen to pursue".
L-R: Tatyana Butterfield; Michael Watson, Michaela Ratteray, Jamila Eve-Cann, Jacqueline Simons: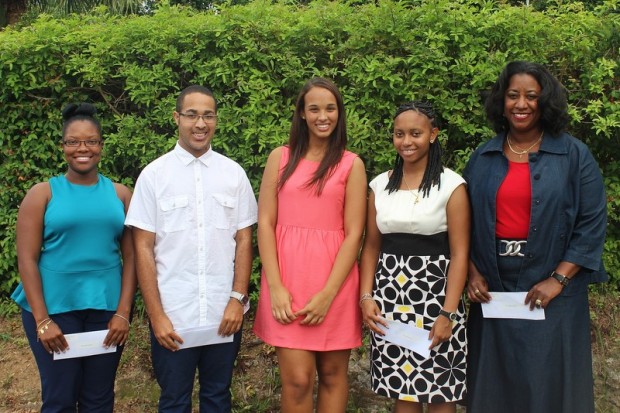 The winner of the graduate scholarship is Ms. Jacqueline Simons who has a Bachelor of Science Degree in Laboratory Sciences Cytotechnology from Thomas Jefferson University. Ms. Simons is currently studying towards a Doctor of Medicine (MD).
The recipients of the undergraduate scholarships are:
Ms. Michaela Ratteray, a graduate of the Saltus Grammar School, is seeking an undergraduate degree in Animal Science from University of California – Davis.
Mr. Michael Watson is a graduate of Somersfield Academy and is pursuing an undergraduate degree in Motion Media and Graphic Design from Savannah College of Art and Design.
Ms. Tatyana Butterfield is a graduate of CedarBridge Academy and is studying for a degree in Risk Management from Temple University.
The bursary winners are:
Ms. Jamila Eve-Cann a graduate from Berkeley Institute who is seeking an associate degree in Science from the Bermuda College; and
Mr. Juma Mouchette [not in picture] is also a graduate from the Berkeley Institute and is seeking an associate degree in Liberal Arts from Central Arizona College.
"All recipients are active in the community and have achieved success outside of the classroom", the spokesperson said.
"The Devonshire Parish Council would like to wish all applicants a successful and productive academic year. The Council also considers it a privilege to be able to assist local residents".
If you are interested in applying for the Devonshire Parish Council scholarship, please email: dpcscholarship@gmail.com or send any inquiries to The Devonshire Parish Council Attn Scholarship Committee PO Box DV 52 Devonshire DV BX.
Photograph taken by Keith Purvey a long time Devonshire resident.
Read More About