The Devonshire Parish Council have presented scholarships to Jaden Smith, Razi Garland, Kayla McCarthy, Timaris Thompson, and Isabella Gaugain.
A spokesperson said, "The Devonshire Parish Council is delighted to announce the recipients of its annual scholarship program for the Academic Year 2023/4. The Devonshire Parish Council Scholarship aims to empower and support outstanding individuals in their pursuit of higher education and foster a brighter future for our community.
"After careful consideration of numerous exceptional applicants, the Devonshire Parish Council is proud to award the scholarship to 5 deserving students who have demonstrated exceptional dedication and achievements in their academic pursuits and have shown a deep commitment to making a positive impact in our community:
"1. Jaden Smith – Bachelor of Kinesiology, Acadia University
"2. Razi Garland – BSc Psychology. Bethune Cookman University
"3. Kayla McCarthy, BSc in Bioveterinary Science
"4. Timaris Thompson, Music Performance and Production Diploma – Uxbridge College
"5. Isabella Gaugain – BSc [Hons] Social Work, University of Winchester
Razi Garland, Denae Burchall [Scholarship Committee Chairperson], Kayla McCarthy, Cymone Sims [Devonshire Parish Council Chairperson], Timaris Thomas, Isabella Gaugain, Jaden Smith, Sharon Lacey [Scholarship Committee Member]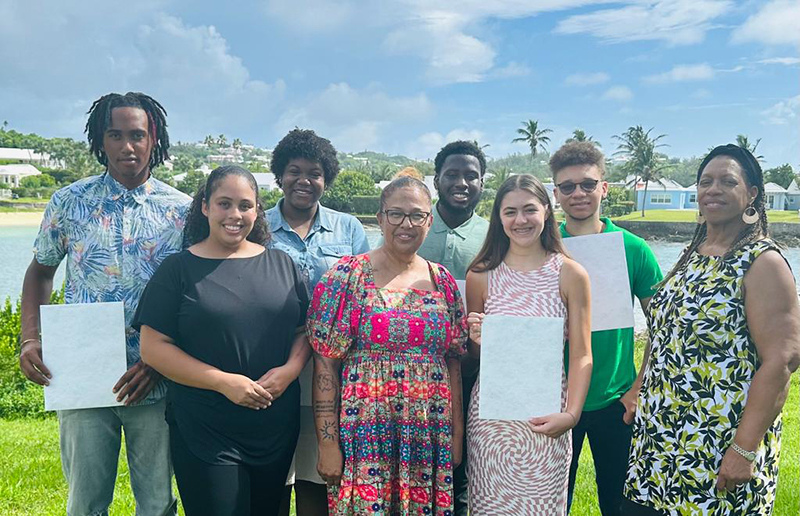 "The recipients will each receive a scholarship award to support their educational journey and advance their goals. In addition to financial support, they will also have the opportunity to participate in various community events and networking opportunities organised by the Devonshire Parish Council.
"We are immensely proud to recognise these exceptional young individuals who have shown remarkable dedication to their studies and service to our community," said Denae D. Burchall, Scholarship Committee Chair at the Devonshire Parish Council. "Through the Devonshire Parish Council Scholarship program, we aim to empower these bright minds to pursue their dreams and become catalysts for positive change."
"The Devonshire Parish Council extends its heartfelt congratulations to the scholarship recipients and extends its gratitude to all the applicants who showcased their outstanding potential and commitment to bettering their future and community.
"For more information about the Devonshire Parish Council and its scholarship program, please visit https://devonshireparishcouncil.bm."

Read More About