Saving Children And Revealing Secrets [SCARS] and Centre Against Abuse [CAA] will be partnering to host an event celebrating Peace Day on Friday, September 20th at the Fairmont Hamilton Princess.
The guest speaker for the event will be Johnnetta McSwain-Clay. She will be talking about her childhood trauma which involved repeated sexual molestation and abuse, and how she moved forward.
"The Road Beyond Abuse" documentary about Johnnetta McSwain-Clay:
Ms McSwain-Clay was born in Alabama to an alcoholic mother and an absent father, and was left to live with her grandparents. This was where she was brutally raped and abused, beginning at the age of five, by her three uncles. By the age of eight she had contracted syphilis.
She said she became caught in a cycle of drug use and theft, dealing drugs and stealing to support herself.
When she was 30 years old, she decided to change her life. She started college and graduated with her Bachelor's degree from Kennesaw State University, and two years later earned a Master's in Social Work at Clark Atlanta University.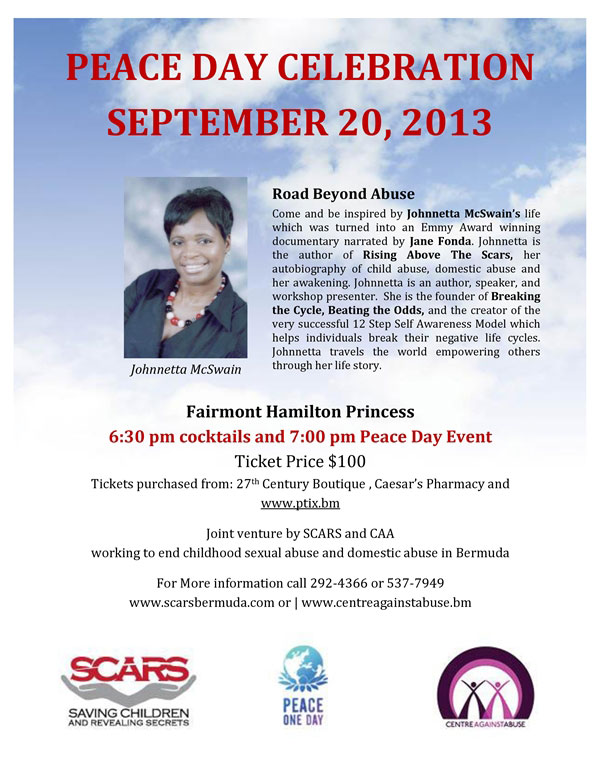 A spokesperson said, "SCARS and CAA decided to collaborate because domestic abuse has a very close link to childhood sexual abuse. More than half of CAA's domestic abuse clients have revealed that they were sexually abused as children.
"The goal of CAA is to end domestic abuse in Bermuda. With SCARS' mission to reduce the risk of child sexual abuse, we know that our missions are closely linked and the collaboration was a natural fit."
Read More About
Category: All