The Freemasons recently donated $2,500 each to two Bermuda charities, serving to assist the valuable work done by Action On Alzheimer's & Dementia and Saving Children And Revealing Secrets [SCARS].
Representatives of the Freemasons' Fund For Bermuda gathered this week to present cheques in the amount of $2,500 each to the charities. Receiving the donations were Sarah Davies for Action On Alzheimer's & Dementia and Debi Ray-Rivers for SCARS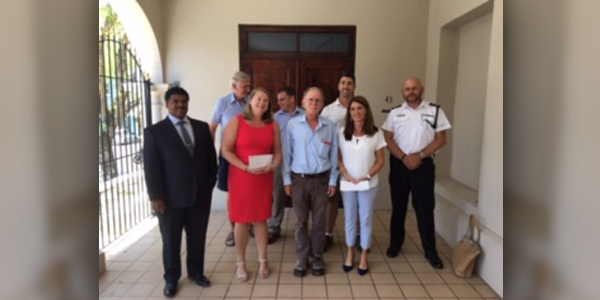 SCARS founder Debi Ray-Rivers said, "On behalf of SCARS, please accept our heartfelt gratitude to you and everyone with the Freemasons' Fund for Bermuda for the very generous donation of $2,500.
"We are truly grateful for your financial support of our vision to drastically reduce the incidence of child sexual abuse in Bermuda through our education and prevention programs.
"The preservation of innocence is one of the greatest gifts we can give our children. This financial gift will help us to continue to educate adults on prevention and ultimately save children from this crime.
"Our community has been amazingly open and eager for the work we have been doing in child sexual abuse prevention and response. We have already surpassed a critical social change milestone of training over 17% of our adult population; island wide over 9,029 adults have been certified in child protection.
"We consider this a tipping point, where protection of children starts to gain traction as a 'social norm'. As we are a small country, we are first to be able to claim this. This is so transformative – first for children, and secondly for the health of our country overall.
"We could not do any of this without organizations such as yourselves, and for that we thank you from the bottom of our hearts!"
Read More About
Category: All