Bermuda's Jermal Woolridge has claimed a silver medal at the World Wushu Championships in Kuala Lumpur, Malaysia.
Woolridge advanced to the final fight following his second round knockout of Ahmed Samir Abdelmoaz from Egypt, which saw the Bermuda fighter stun Abdelmiaz with a right round house kick.
In the latter stages of the final fight Woolridge was able to rock his opponent — Russia's Bozigit Ataev — with a punch to the head, but ended up going down 2-0, earning himself a silver medal.
Bermuda was represented by a full complement of martial artists at the World Championships, with Jeron Gunness and Garon Wilkinson competing, and Sentwali Woolridge and Khalid Pitcher claiming wins over athletes from Kyrgyzstan and Gabon to earn a spot in the quarter finals.
The Bermuda team with medal winner Jermal Woolridge in the centre of the bottom row: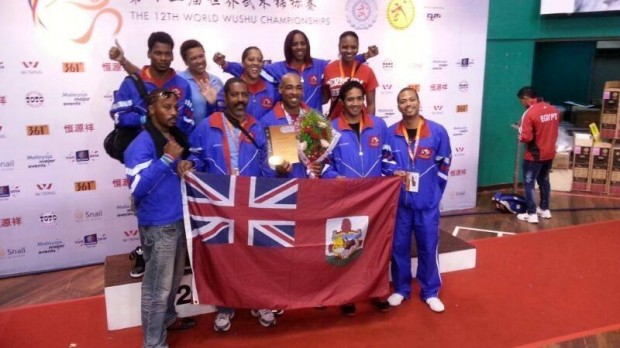 Speaking after the fight, Bermuda San Shou President Garon Wilkinson said: "Woolridge finished one better than the last World Championships and finished with the silver.
"He put up a great fight against Russia but his opponent was stronger and really good. So the curtain closes on our most successful World Wushu Championships ever. I am really proud of our team!"
One of the island's top martial artists, Woolridge has won a number of medals for Bermuda in international competitions; including a gold medal at the Brazil International Wushu Championships earlier this year, a bronze medal at the Sanda World Cup in China last year, and a bronze medal at the 2011 World Wushu Championships in Turkey.
Read More About