[Updated with video] The Association of Filipinos in Bermuda were hoping to get 100 people at their fundraiser today [Nov 11], however as of this writing have already had 200 people through the door, with more still filing in.
The attendance exceeded their expectations causing some food selections to run low, however supporters sprang to action, delivering more food as the event continues.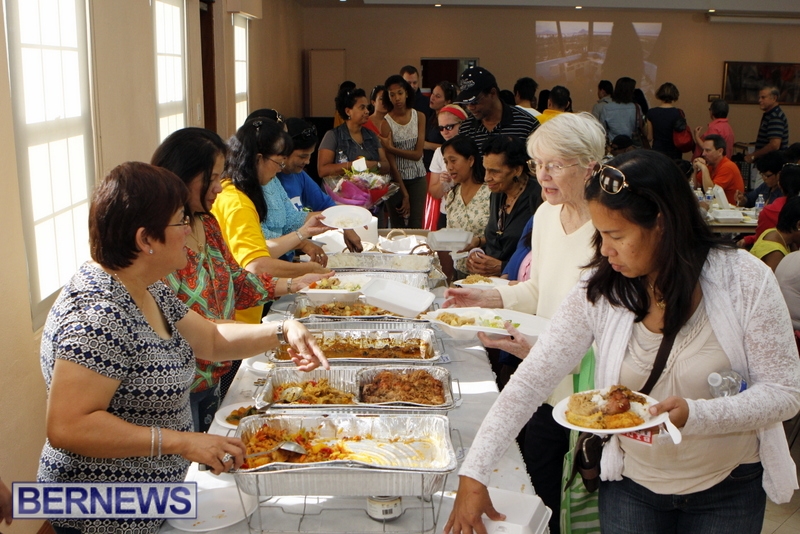 The fundraising lunch is being held at St. Theresa's Church Hall, with some people staying to enjoy their meal, while others grabbed take-out.
"I thank them for their help and their presence," said the President of the Association, while the Vice President also extended her thanks to the Bermuda community for their support.
The Filipino community has been joined by a cross section of Bermudians and locals who came out to support the event, including Governor George Fergusson, Home Affairs Minister Michael Fahy and the Premier's Press Secretary Charmaine Burgess.
Members of the Filipino community with the Governor, Minister and Press Secretary: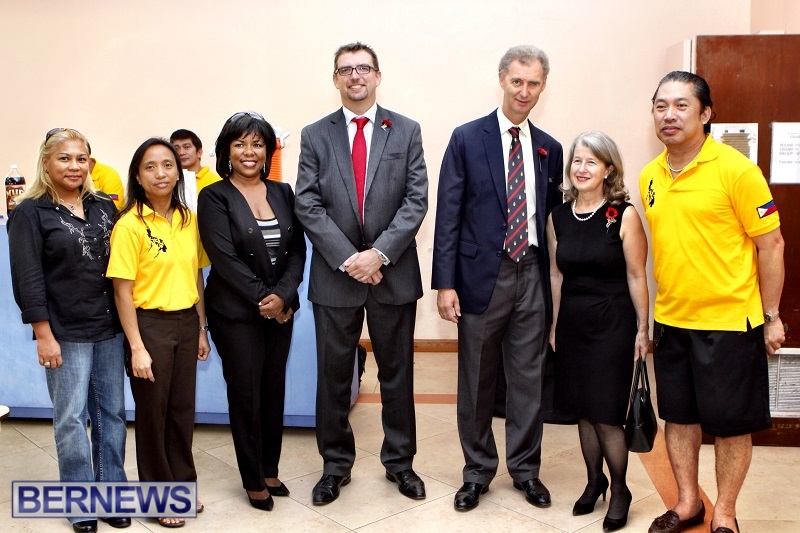 A slide presentation is being shown at the event, giving attendees a chance to see some of the destruction caused by the storm.
Super Typhoon Haiyan — reported to be one of the most powerful storms to ever make landfall — struck the Philippines on Friday, leaving a path of devastation and an estimated 10,000 people dead.
Haiyan had sustained winds reached 195 miles per hour [313 kph] with gusts of up to 235 mph [378 kph], and destroyed 70% – 80% of what was in its path.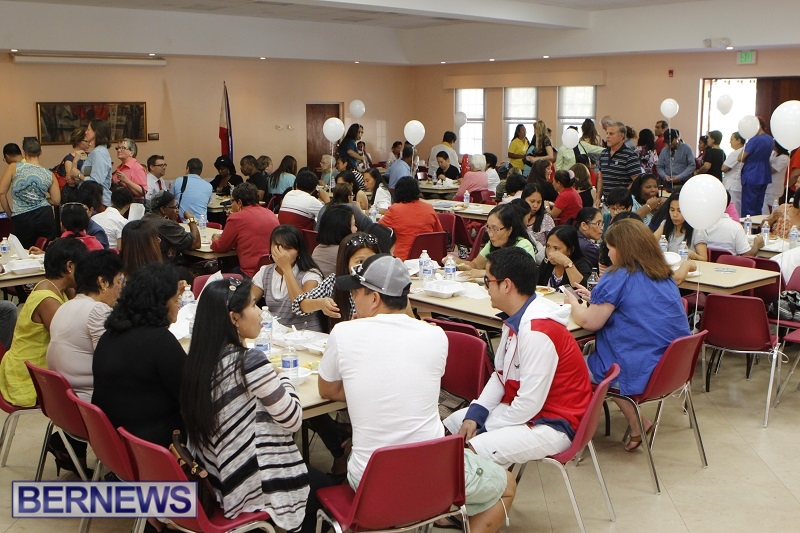 With the storm having damaged so much of the nation's infrastructure, many of the island's Filipino community remain anxious, with the storm having damaged communication lines leaving many unable to make contact with their family.
Both the Government and Opposition have extended their best wishes to the island's Filipino community, with the PLP saying they join "with our families, neighbours and coworkers in support of and in sympathy with the Phillipines," while Home Affairs Minister Michael Fahy said, "We wish to express our support, as we can empathise with the anxiety our Filipino friends must be experiencing in the wake of this storm."
Update 3.38pm: Anyone who would like to donate directly to the the Association of Filipinos in Bermuda [registered charity, #529], can send their donations to: Association of Filipinos in Bermuda, Bank of NT Butterfield, Current Account no. 2000 6060 258 204 100.
In addition, the Bermuda Red Cross has launched a cash appeal to help assist the victims of Typhoon Haiyan, and donations can be made to HSBC Bank of Bermuda 010-187417-012, or Bank of Butterfield 20-006-060-663859-200.
You can also 'snail mail' cheques to the Bermuda Red Cross, Typhoon Haiyan Appeal, Charleswood, 9 Berry Hill Road, Paget DV 03.
Update 11.50pm: The Association has confirmed that the event raised over $10,000.
Read More About