Bermuda continues to support the global relief effort for victims of Typhoon Haiyan in the Philippines by hosting 'Live BDA' – a four hour concert of live music.
The event will take place at the new PIER 6 Waterfront Complex and is joint-hosted by The Whitfield Group Ltd. and the Association of Filipinos in Bermuda [AFB], with entertainment for the event lined up by musician and local producer, Andrew Chamberlain.
Chamberlain commented: "We wanted to do something to help raise awareness of the devastation that has taken place in the Philippines.
"The response we have had in support of this event has been overwhelming, from the musicians themselves to our suppliers who include Great Sound, Goslings and IRG. They have given us this amazing opportunity to host an event where 100% of proceeds go to charity for the typhoon victims."
It's been a month since the storm struck, yet there has been an outpouring of support for the relief effort as communities worldwide continue to respond to the global fundraising appeal.
Typhoon Haitan wreaked havoc throughout the Philippines: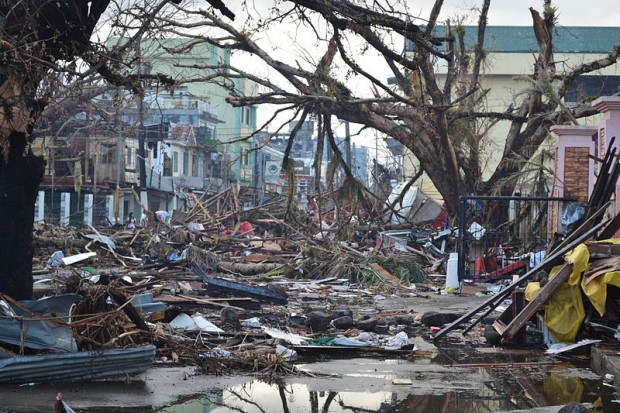 The category 5 super-typhoon, which struck the Philippines coast with over 195 mph winds, left thousands dead in its wake, destroying over 600,000 homes and affecting nearly 12 million people.
The worst hit areas continue to suffer, with mass graves leaving the threat of disease a very real problem. Access to isolated communities remains difficult; meaning little or no food and water is getting through to the areas that need them.
Suzie Pewter, President for The Whitfield Group, said: "After meeting with the Association of Filipinos in Bermuda and discovered how many members' families were affected, I knew The Whitfield Group Ltd. had to pull their resources to help in every way we could to raise significant funds for victims of the disaster."
Rowena Comber, Vice‐President of the Association of Filipinos in Bermuda added: "Typhoon Haiyan has claimed over 5,670 lives, and more than a thousand people are still missing.
"The cost to infrastructure and livelihood were estimated to have reached $15 billion, so we would like to appeal to the Bermudian community to once again support the Live BDA Concert to raise funds for the rehabilitation of the 12 million people affected by the storm.
"The Filipino Association has, so far, raised $47,000 from its various fundraising events and we would like to thank the community for supporting our cause."
The four hours of entertainment will include Heather Nova, Glass Onion Band, Bones, Working Title, The Filipino Association Dancers, Sonique Sanctuary, Sultans of Swing, D.I.A. [Devil's Isle Audio], Joy T Barnum and Milton Raposo Duo, Jessica Rendora and DJ Choice. Special thanks must also go to Tony Brannon for his support.
100% ticket sales, as well as all food and beverage sales, will be going directly to the hardest hit areas in the Philippines through three fantastic charities who are contributing to the immediate, on‐the‐ground relief effort. These charities are Red Cross Bermuda [working with Red Cross Philippines], Operation Blessing and Catholic Relief Services.
Money raised from the event will help to provide water, sanitation, shelter, food and medicines and other basic amenities that are critical for thousands of Filipinos who have been displaced by Super Typhoon Haiyan. Donations may also be made to local families severely affected by the destruction. .
Live BDA will take place on December 7 after the Boat Parade, at Hamilton's newest event facility Pier 6 on Front Street. The event will run from 10.00pm through 2.00am. Tickets are available to be purchased via PTIX.bm.
Read More About
Category: All, Entertainment, Music