A large low pressure system hovering over the Atlantic about 1,280 kilometres east-southeast of Bermuda has become the latest named storm of the season.
Dubbed subtropical storm Melissa, the storm is expected to move in a north-northwest direction before veering off to the east later this week.
Tropical overview map courtesy of the U.S.National Hurricane Center: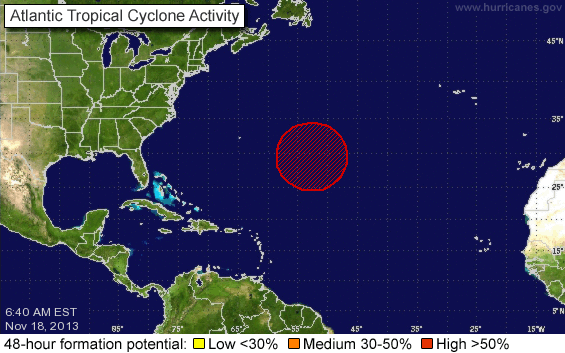 "Environmental conditions are expected to be conducive for the low to acquire subtropical or tropical characteristics during the next couple of days while it moves slowly north- northwestward to northward," said the Florida-based U.S. National Hurricane Center before the storm's official designation.
According to the Bermuda Weather Service, Melissa is not a threat to Bermuda at this time, and its closest point of approach to Bermuda within 72 hrs is forecast to be 539 nm to the east at 7am on Tuesday, Nov 19, 2013.
Read More About
Category: All