Bermudian filmmakers Kara Smith and Karli Powell are turning to their home to make a new short film -'Carlos and Pacheco' set in Bermuda's Portuguese community.
Ms Smith was the 2012 grand prize winner of the Hollywood Screenplay Contest and shortlisted for an Emmy award; and their most recent short film "Life Anonymous" premiered at the 2013 Cannes International Film Festival and Bermuda International Film Festival.
The film is set to follow the lives of two best friends as they struggle to overcome a changing economy and the resultant financial hardships.
This will be the filmmakers' first locally shot project and they are looking to challenge themselves by shooting largely in Portuguese [with captions].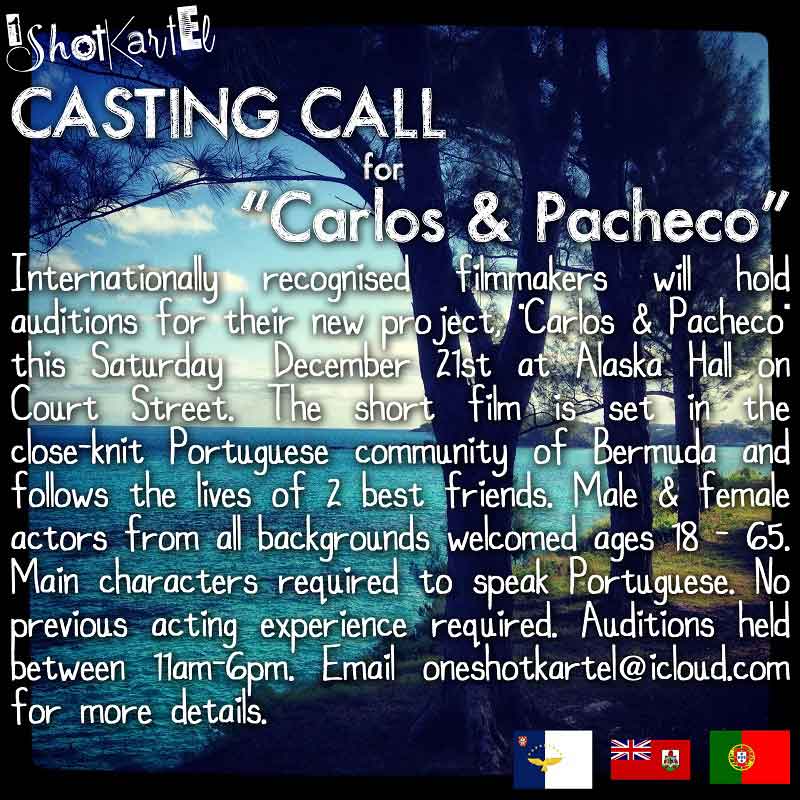 Ms Smith said, "We really wanted to tell a story that explored the diverse nature of Bermuda's community.
"It's very interesting that we have such a significant and vibrant Portuguese culture here on the Island yet it's a narrative that remains largely unexplored.
"We wanted to film in Portuguese because it adds a different context to the Bermudian experience -and hopefully evokes conversation about the varying cultures that contribute to the national identity."
Those interested in this project are invited to answer the Casting Call for auditions on Saturday [Dec 21] at Alaska Hall on Court Street between 11am-6pm.
Male and female actors [ages 18 –65] from all backgrounds are  welcomed, and the main characters are required to speak Portuguese.
For more details, please email oneshotkartel@icloud.com.
Read More About
Category: All, Entertainment, Films/Movies