He wasn't convinced that appearing in the Bermuda-based underwater thriller The Deep would do anything to enhance his career.
But Nick Nolte eventually took the plunge on the 1976 big-budget Hollywood adaptation of Peter Benchley's bestselling novel after losing out on roles in Apocalypse Now! and other films with "artistic merit."
His career newly ascendant after the unprecedented ratings success of the 1976 TV mini-series Rich Man, Poor Man, Mr. Nolte says he was eager to capitalise on that success with a role in a major movie — even if that movie turned out to be The Deep.
The original coming attractions trailer for The Deep
"I felt a bit of a sellout, but Peter Island in the British Virgin Islands and Bermuda were paradise," the three-time Oscar nominee says in his recent autobiography Rebel: My Life Outside The Lines.
Arriving on location in the Virgin Islands to shoot some underwater scenes before the cast and crew moved on to Bermuda, the setting of the story, Mr. Nolte says he was so underwhelmed by a read-through of The Deep's screenplay "I threw my script, yelling, 'There isn't a character in this whole go****d thing!'
"Co-star Robert Shaw, the British character actor whom audiences had recently got to know in Jaws, put his arm around me, saying, 'It's a treasure picture, Nick,' then he added, "Come back to my place. We'll have a jar and it'll be fine …
"Like me, Shaw had been older when he had finally broken through in the business. Yet Shaw had learned how to enjoy himself and he suggested that I simply relax. I was wise enough to take his advice and the next day I mooned [novelist and co-screenwriter] Peter Benchley. On my left butt cheek, I'd had my makeup man write 'The', and on the right, he'd written 'Deep'."
Despite taking a critical drubbing, The Deep did well at the box-office in 1977: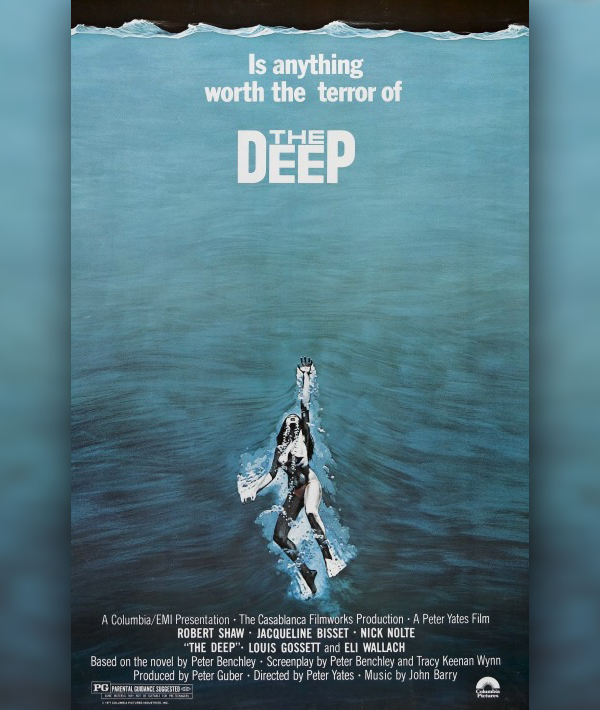 A maritime follow-up of sorts to Mr. Benchley's publishing and movie juggernaut Jaws, The Deep was inspired by the life and adventures of his Bermudian friend and mentor, the late treasure diver Teddy Tucker.
The book and movie tell the story of two competing treasure hunts on Bermuda's reefs, one led by the Tucker stand-in Romer Treece [Mr. Shaw] and two vacationers [Mr. Nolte and Jacqueline Bisset] for a fortune in drowned 17th century Spanish gold, the other headed by courtly but ruthless local crime godfather Cloche [Louis Gossett Jr.] for millions of dollars worth of medical morphine which went down on a Word War II freighter.
In his warts-and-all memoir, the blunt-spoken Mr. Nolte says critics rightly "clobbered" him when The Deep was released in 1977. He credits Jacqueline Bisset with saving the movie at the box office: "She transformed schlock into a blockbuster. If people remember the movie at all, we can thank Jackie."
But he says he did stumble upon a golden opportunity in Bermuda every bit as valuable to him as The Deep's sunken gold was to his movie character. He met Anglo-Czech director Karel Reisz, who was visiting the island. The two men hit it off and Mr. Reisz recruited the American actor for his next movie, a project that turned out to be the critically lauded and commercially successful Vietnam War-era 1978 crime drama Who'll Stop The Rain.
The cover of the hardback edition of Nick Nolte's 2018 autobiography: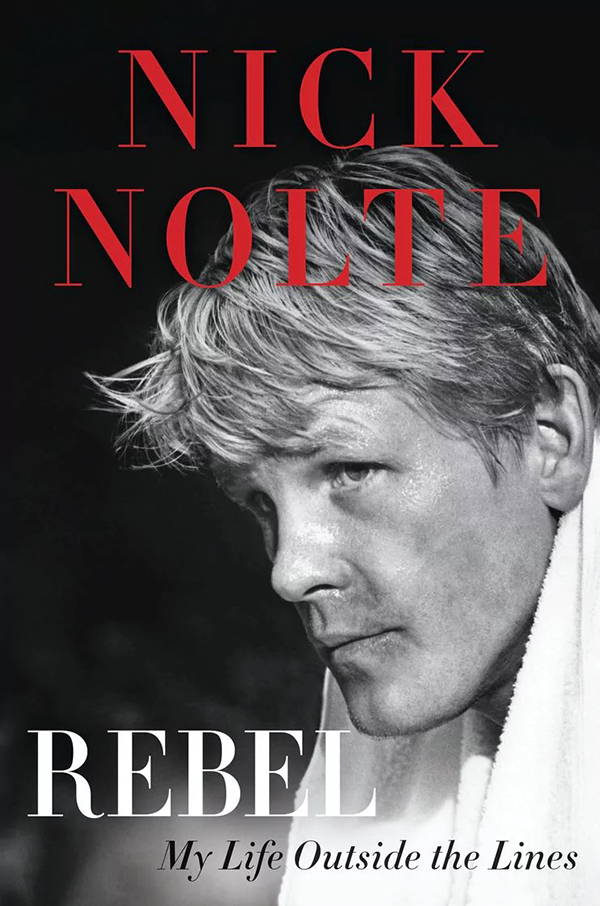 "Sometimes life makes choices for you that turn out better than you'd make for yourself," says Mr. Nolte. "The Deep was one of those times for me. I'd had an amazing experience in the Caribbean and Bermuda, and I'd successfully made the leap from television to film despite the bad reviews — and my next film was going to be one of which I was very proud."
Mr. Nolte, who went on to appear in such other hit films as 48 Hours, Cape Fear and Prince of Tides, reunited with Ms Bissett recently on the 2016-17 Epix comedy TV series Graves. She played the ex-wife of Mr. Nolte's title character, a former US President who realises all of the mistakes he made while in office and tries to make amends for them.
Mr. Nolte's memoir Rebel: My Life Outside The Lines was published in hardcover by William Morrow in 2018 and is now available in paperback and Kindle editions.
Unlike his performance in The Deep, his memoir was warmly received by critics. Kirkus Reviews said: "The noted film actor and notorious bad boy hunkers down and tells a few tales of his life. Better than the usual run of actor memoirs and plenty of fun to boot."
And the Washington Post, describing Mr. Nolte's memoir as "touching, funny in parts, full of the excesses postwar America," recommended that readers of "cheerfully candid" autobiographies "pick it up."

Read More About
Category: All, Entertainment, Films/Movies