At the Saltus staff dinner at the end of November, there was a raffle organized by the Saltus Staff Social Committee with proceeds going to the victims of the typhoon in the Philippines.
The raffle committee was very grateful to those who donated the many prizes including: Suzuki, Bermuda Fun Golf at Dockyard, Hideaway spa, Gillian's, Honda, Suzuki, KFC, Demco Florist, Gosling's, Juice 'n' Beans Cafe, Sovereign Jewelers, AF Smith, Becky Spencer Photography, Flowers by Gimi, Island Restaurant Group, Noah's Ark, Mad Hatter's Restaurant, Lindo's Family Foods Ltd., Miles Market, Funkins, and Southampton Princess.
A cheque for the proceeds from this raffle – in the amount of $2,230 – was presented to Ann Spencer-Arscott, Director of the Bermuda Red Cross, for the victims of the typhoon. Along with the whole school grub day last month, this made a total of $12, 230 raised by the Saltus family for those affected in the Philippines.
Mrs. Spencer-Arscott reported that to date nearly $300,000 has been donated by the people of Bermuda to the Red Cross relief effort there.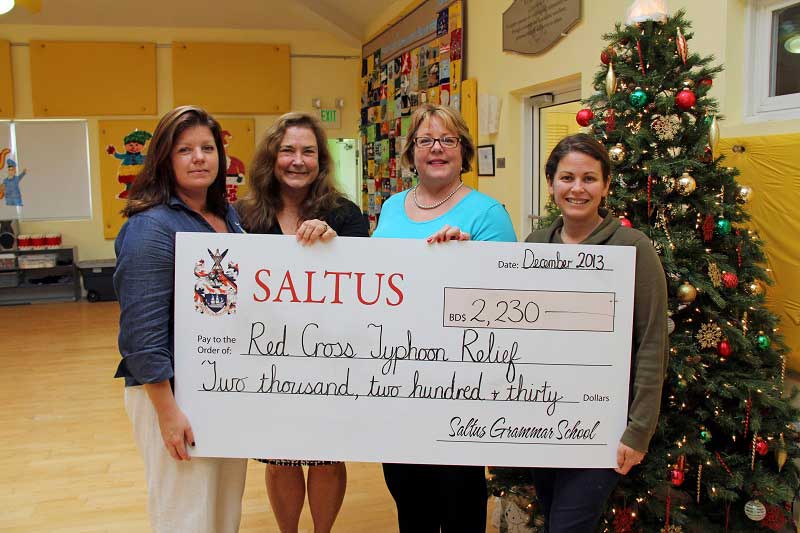 Read More About
Category: All