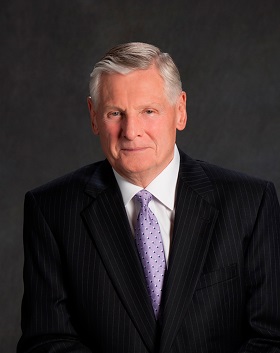 [Updated] The Bermuda Tourism Authority [BTA] today [Jan 26] announced the appointment of Bill Hanbury as Chief Executive Officer, effective January 27. He will report to the Board of Directors.
David Dodwell, Chairman of the BTA, says: "Bill brings tremendous marketing and management expertise that will assist Bermuda as we re-energise the island's tourism economy to compete in the global marketplace.
"He has led the rebuilding of other organisations with similar challenges and we look forward to having him form and lead the team at Bermuda Tourism Authority.
"I want to be very clear in acknowledging that Bill Hanbury is not a Bermudian. When we began the search for this position, we were clear that we wanted the best we could find and I believe we have done that.
"Bill will lead a team that will be responsible for attracting new investment in Bermuda and for creating new jobs, most of which will be filled by Bermudians.
"In the long term, we will be looking for a Bermudian successor, however, right now, we have found someone who can help put our tourism industry back into positive evolution and, as a result be beneficial to many, many Bermudians."
An industry veteran with over 25 years of senior management experience, Mr. Hanbury will be responsible for leading the newly created Bermuda Tourism Authority.
A statement from the BTA said, "From 2009-2013, Mr. Hanbury was the CEO of the United Way of the National Capital Area, managing an iconic brand at a watershed moment in its history.
"During his tenure, he: rebuilt the internal operating structure, implemented a development strategy that improved financial stability and rebuilt the organisation's marketing, communications and digital capabilities.
"Prior to that, Mr. Hanbury served as President & CEO of Destination DC and the American Experience Foundation from 2001-2009. While there he oversaw domestic and international marketing and sales for one of the world's top tourism destinations.
"The organisation was responsible for selling the Washington Convention Center and positioning the U.S. Capital as a first-tier convention, tourism and events location.
"His key accomplishments included: significantly improving DC's status in the international tourism marketplace, helping lead the economic recovery of the hospitality industry after 9/11, re-designing Destination DC's management and marketing functions, plus leading the sales team that booked over 1 million room nights annually.
"He also provided logistics leadership for: international forums, economic summits, presidential inaugurations, national celebrations, plus memorial and museum dedications.
"During his tenure as CEO at various convention bureaus and chambers, including Greater Milwaukee Convention & Visitors Bureau and Hilton Head Island Chamber of Commerce, Mr. Hanbury led an industry trend to use sporting events as economic development tools for communities.
"A sampling of these events included: PGA Golf events, USA Triathlon Championships, World Championship Boxing, the National Sports Festival, National Softball Championships, Empire State Games, US Olympic Marathon Trials and National Balloon Festivals."
Bill Hanbury notes: "I'm excited to have the opportunity to work with the new Board of Directors, private sector partners and government officials to build a world-class organisation representing Bermuda's extraordinary tourism assets.
"Bermuda is one of the globe's premiere tourism destinations and to have an opportunity to work here is an honour and a significant professional challenge. I look forward to implementing the National Tourism Plan with the intention of creating jobs, increasing tax revenues and improving the overall tourism figures and its input to the Bermuda economy."
Mr. Hanbury holds a graduate degree in public administration from Harvard University and an undergraduate degree from Wilkes University.
Mr. Hanbury currently serves on the Board of Wilkes University. He has also served on the boards of national travel and tourism organisations, including the: US Travel Association, Travel Business Roundtable, American Bus Association, and Professional Convention Management Association. Additionally, he served as Chairman of Destination Marketing Association International, the global organisation for destination marketing professionals.
The executive search for Mr. Hanbury was conducted by Korn Ferry in concert with BTA.
Update Jan 27, 8.35am: Following requests from readers to provide information on remuneration, we checked into it, and were told that Mr Hanbury's salary is not being released.
Read More About