In this latest Bernews podcast, Bermuda Tourism Authority CEO Bill Hanbury said when he started the tourism strategy had to be completely rebuilt.
But he says it is now paying dividends and that tourism in Bermuda has a bright future, adding that figures released this week for the first quarter of 2016 were the result of the BTA's marketing strategy beginning to pay off and were not a blip.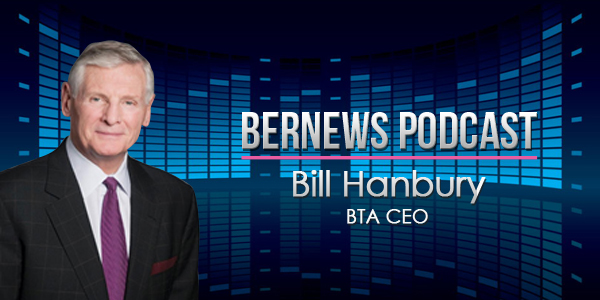 Asked what he had to rebuild he said: "Just about everything, we threw the baby out with the bathwater. When it came to tourism in Bermuda we were just not doing the things that needed to be done.
"From the website, to social media to advertising to PR, the entire spectrum on how we marketed, I thought was off the mark. We basically changed everything."
He said the Bermuda Tourism Authority also conducted "research necessary to find out what consumers wanted and what they were saying about Bermuda".
"In all honesty, I don't believe that research had been done in the past," he added.
On the recent increase in the BTA's budget – $1m from Government and another $1.85m from hotels – Mr Hanbury said although Government was trying to fund the organisation in an equitable way "it is still not enough in this global environment we are competing against".
He said opponents to the BTA did not like the fact that it was coming out from the Government, that it was being run by an American and who "had given up on tourism".
"They said 'there is no way we can improve our tourism product'. I have repeatedly seen that from individuals. This is what happens when you have been in decline," added Mr Hanbury.
He said the future of tourism in Bermuda looks very bright and despite "month after month after month of declines" new figures showing a dramatic increase in arrivals was not a blip.
35-Minute Podcast with BTA CEO Bill Hanbury: 
"In 2015 we laid the foundations for what is going to be a very, very solid year in 2016 and 2017."
On the latest figures released this week, Mr Hanbury said: "It is not a sudden turnaround, we knew it was coming for months and months.
"Our marketing efforts are finally starting to gain traction. We had got off people's consideration list and we are now on their booking list." He said he was particularly pleased that a very significant number of visitors in the first quarter were younger people.
Mr Hanbury said "absolutely and unequivocally" Bermuda should have a new airport. "If we want to be a world-class destination and compete with the best in the world as a luxury destination, we need a new airport."
On his own future: "I have a three-year contract and this is the last year of my contract. I said when I came that I am hopeful that we could find a competent successor by the end of my contract and I still believe we will find a competent successor.
"I believe a Bermudian ought to do this job and I believe there is a solid group of Bermudian talent here that could potentially do this job."

Bernews' podcasts aim to provide an in-depth look at current affairs, and the text extracts above represent only a small portion of the full interviews.
You can also download the episode in MP3 format here, view past podcasts here, and subscribe via iTunes to download all our podcasts directly to your phone or tablet.

Read More About